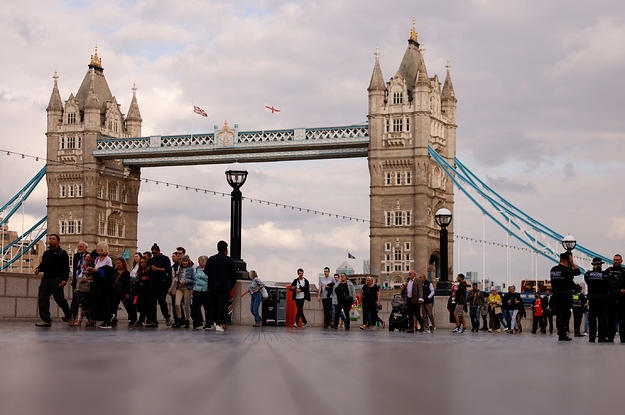 "I think it's quite a sign of respect, the number of people who are committed to being patient and standing in line," a volunteer flight attendant told BuzzFeed News about the huge queue. "Even if it rains, I think they'll still be there."
Kate Fryer, a National Health Service employee traveling from Kent, braved the line alone and with a bad hip for five hours.
The 44-year-old, who was supported with a cane, praised organizers for making the grueling process as accessible as possible for those with mobility issues.
"They've been so good. It's so well organized," she told BuzzFeed News.
When they reach the end of the line, mourners enter the solemn scene at Westminster Hall, where the Queen's coffin lies in state, surrounded by ceremonial guards wearing a glittering crown.
A live stream from the BBC shows those in line stopping silently next to the coffin. Some bow, some cry, but all feel a sense of history that seems hard to describe for those who stand in line.