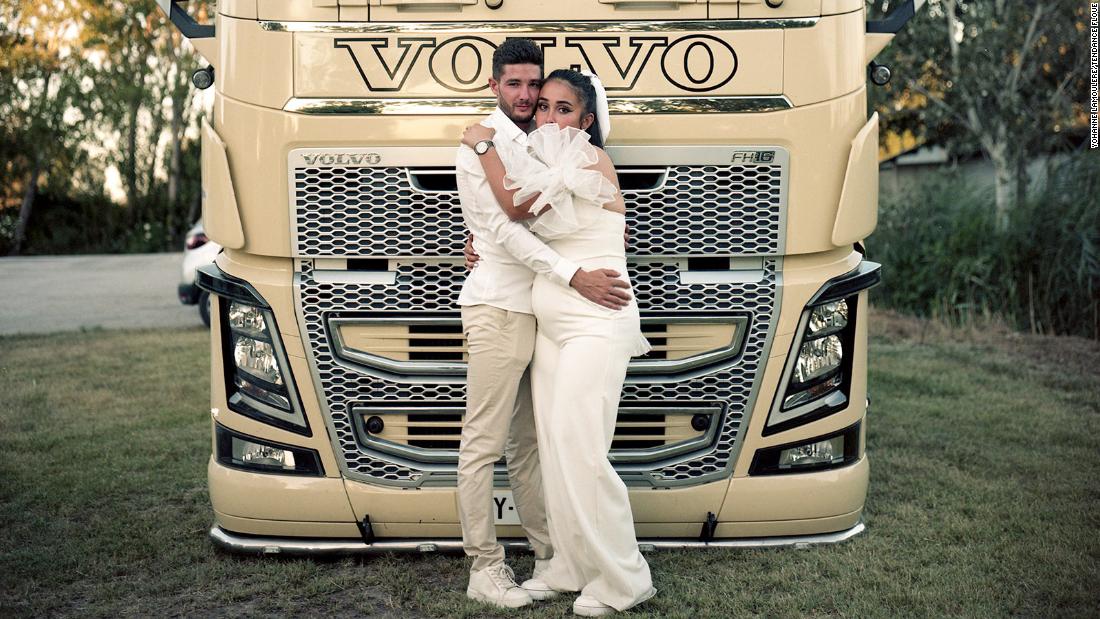 Position · art
A portrait of one of the few young female truck drivers in France
Amélie, 23, drives a route between France and Spain twice a week. Her truck is an important part of her identity, which photographer Yohanne Lamoulère captured in this portrait.
In Snap, we look at the power of a single photo and capture stories about how both modern and historical images were created.
Amélie and Jéremy, photographed in August 2021. Amélie is one of the few female truck drivers in France. Credit: Yohanne Lamoulère/Forum Vies Mobiles/Tendance Floue
A young couple embrace in front of the grill of a 750 horsepower Volvo truck, their cream and beige ensembles matching the slick exterior of the utility vehicle. They pose for the camera, her face partially obscured by the playful curve of the tulle shoulder puff of her pantsuit.
While the photo may conjure up images of young lovers on the road, they are not out together. Amélie Riquelme, 23 years old and raised in Arles, France, is the driver of the truck; she works in an industry that has long struggled to attract women and youth, with driver shortages becoming a critical issue amid drastic global shortages. Less than 3% of truck drivers in Europe – and the world – are women, according to a 2022 study by the International Road Transport Union (IRU), and few young people fill the gaps exacerbated by the Covid-19 pandemic. The average driving age in the European Union is the highest in the world at 47 years.
Amélie works for her family's transport company. At the time photographer Yohanne Lamoulère met her in 2019, she was driving from Arles to Castellón, Spain, and back at least twice a week, Lamoulère explained via email. The busy route is about 850 miles, or about 1365 kilometers in total.
The company was founded by her grandfather and has employed many of her relatives in various capacities, as well as her former partner, Jérémy, pictured above with her.
They were newly engaged in the photo, taken in August 2021, but have since ended their relationship.
A sense of passion
Lamoulère's work often explores life on the outskirts of major French cities and the aspirations of the people who live there. The photographer, whose uncle is also a truck driver, Amélie met at a truck show in southeastern France where drivers decorate their vehicles for a competition. She was drawn to the younger girl's sense of determination and drive. Amélie had left her beautician studies to pursue a career in trucking, following in her father's and grandfather's footsteps.
"Amélie is a very organized girl. When I met her, she was only 20 years old and was already describing her life in a very planned, constructed way," said Lamoulère. "She's also very free-spirited and very funny."
Although Lamoulère photographed Amélie's life at different times over a two-year period, this photo was particularly memorable: at her sister Lucie's farm wedding – with an all-white dress code and the family trucks that were part of the wedding procession – Jérémy and Lucie together to surprise Amélie: instead of throwing the traditional bouquet, Lucie handed it directly to Amélie, and Jérémy proposed.
Lamoulère then shot her portrait of the newly engaged couple in front of Amélie's truck, the bouquet on the dashboard above their heads.
The image is part of the series 'Les Vies qu'on mène' or 'The Lives We Lead' by the French photography collective Tendance Floue. A book of the same name has been made of the oeuvre, about daily life in France and an exhibition in Paris at Cité Internationale des Arts. It was also on display at the international photo fair Paris Photo in the fall.
Although the couple are no longer together, Lamoulère likes the portrait for its emotional resonance, as well as for embodying Amélie's independent spirit. She said it's rare to see a young woman "aboard monsters like Amélie's truck" and thinks it's "really beautiful" to see her making her own way. For the trucking industry to survive, more people like Amélie will have to fill the driver's seats.