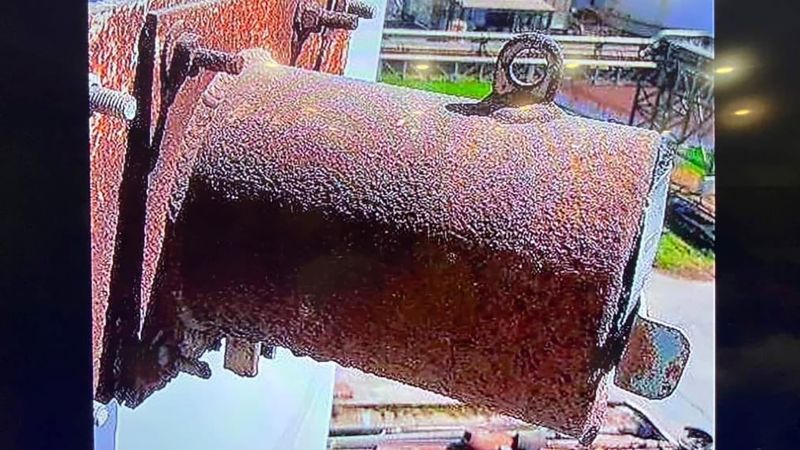 Bangkok, Thailand
CNN
—

Authorities in Thailand are scrambling to locate a metal cylinder containing dangerous radioactive contents that disappeared from a power plant this week to warn the public of serious health risks.
The revelation comes just two months after Australia was forced to launch a similar hunt to locate a small radioactive capsule that was eventually found.
But while that Australian capsule was lost in a remote rural area, the Thai container has disappeared in a much more populous part of the world.
The cylinder, which measured 30 centimeters long and 13 centimeters wide, was reported missing on March 10 during routine checks by personnel at the coal-fired power plant in Prachin Buri, a province in central Thailand, east of the capital Bangkok.
The cylinder, used to measure ash, was part of a silo and contains caesium-137, a highly radioactive substance that scientists say could be potentially deadly.
Search teams and drones have been deployed to recover the missing cylinder, according to a statement from the Office of Atoms for Peace, a government regulator for radioactive and nuclear research in Thailand.
Deputy Secretary-General Pennapa Kanchana told CNN on Wednesday that they used radioactive detection equipment to locate the cylinder.
"We search local waste recycling stores," she said. "We are (using) research equipment to detect signals. For areas that we cannot reach, we have sent drones and robots."
Also involved in the search is Thai police, who believe the cylinder has been missing since February, but was only officially reported lost by the National Power Plant 5 company on Friday.
Police have been examining CCTV footage from the factory, Si Maha Phot district police chief Mongkol Thopao told CNN, but were hampered by "restricted visibility" of the machine.
"It's unclear if the item was stolen and sold to a thrift store or lost somewhere else," Mongkol said. "We sent our teams to local thrift stores…we still couldn't find it."
The case follows a similar incident in Western Australia in January when a small capsule, also containing caesium-137, went missing along a remote inland highway while being transported from an iron ore mine to a depot in Perth.
After a challenging six-day search, the capsule was finally found. Experts who previously spoke to CNN said the loss of that capsule was "very unusual" and spoke of the challenges of recovering such a small device.
The Office of Atoms for Peace warned of the serious side effects of caesium-137.
It urged the public not to panic and to return the item if found.