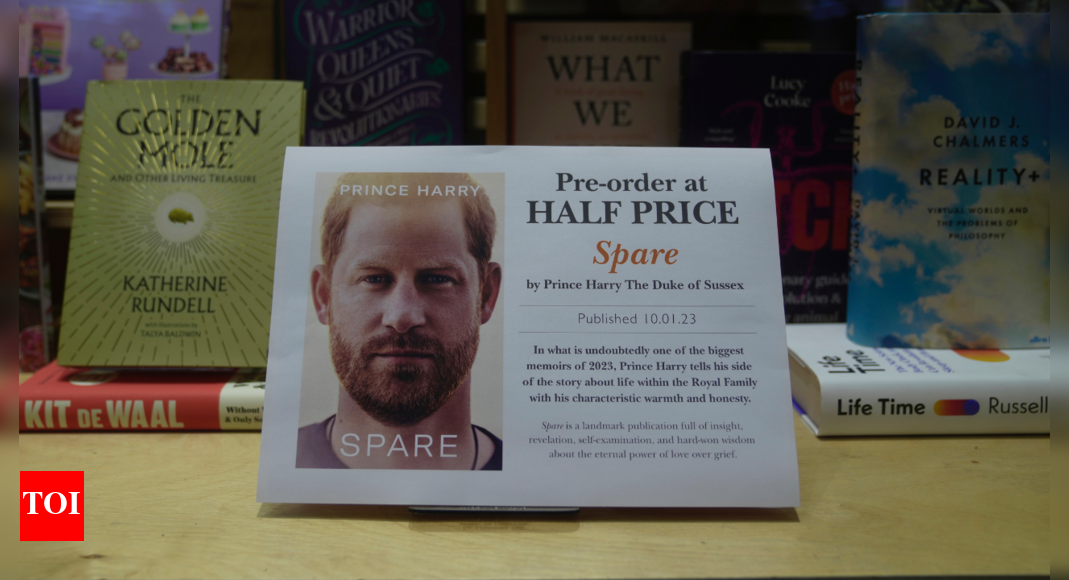 LONDON: Allies of the British royal family on Saturday opposed claims made by Prince Harry in his new memoir, which portrays the monarchy as a cold and callous institution that failed to nurture or support him.
Buckingham Palace has not yet officially commented on the book. But British newspapers and websites were full of quotes from unnamed "royal insiders" who refuted Harry's accusations. One said his public attacks on the royal family took a "toll" on the health of Queen Elizabeth II, who died in September.
Veteran journalist Jonathan Dimbleby, a biographer and friend of King Charles III, said Harry's revelations were of the type "that you would expect…from a B-list celebrity of sorts", and that this left the king pained and frustrated. would be.
"His concern … is to act as head of state for a nation that we all know is in pretty dire straits," Dimbleby told the BBC. "I think he'll think this gets in the way."
Harry's book, "Spare," is the latest in a series of very public statements from the prince and his wife Meghan since they left royal life and moved to California in 2020, citing what they saw as the racist treatment of Meghan by the media, who is biracial, and a lack of support from the palace. It follows an interview with Oprah Winfrey and a six-part Netflix documentary released last month.
Harry isn't the first British royal to reveal family secrets – both his parents used the media when their marriage fell apart. Charles contributed to Dimbleby's 1994 book and accompanying television documentary, which revealed that the then heir to the throne had had an affair while married to Princess Diana.
Diana gave her side of the story in a BBC interview the following year, famously saying "there were three of us in this marriage", referring to Charles' relationship with Camilla Parker Bowles.
But "Spare" goes into much more detail about private conversations and personal grievances than any previous royal reveal.
In the ghostwritten memoir, Harry discusses his grief over his mother's death in 1997 and his long-simmering resentment over the role of royal "reserve", overshadowed by the "heir" – older brother Prince William. He tells of arguments and a physical altercation with William, reveals how he lost his virginity (in a field) and describes the use of cocaine and cannabis.
He also says he killed 25 Taliban fighters while serving as an Apache helicopter pilot in Afghanistan — a claim that has been criticized by both the Taliban and British military veterans.
"Spare" will be published around the world on Tuesday. The Associated Press obtained an early Spanish-language copy.
Harry has said he expects counter-attacks from the palace. He has long complained about "leaking" and "planting" of stories to the media by members of the royal household.
In an interview to be broadcast on ITV on Sunday – one of many he has recorded to promote the book – Harry says people who accuse him of invading his family's privacy "don't understand or don't want to believe that my family informed the press."
"I don't know how silence will ever make things better," he said.