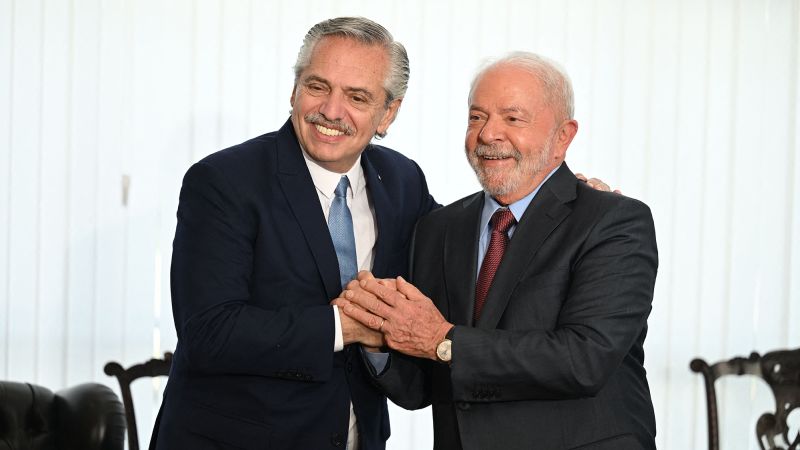 London
CNN
—

South America's two largest economies are starting talks to create a common currency. Analysts are sceptical.
Brazilian President Luiz Inacio "Lula" da Silva and Argentine President Alberto Fernández wrote in a joint piece published in Argentina's newspaper Perfil Sunday that they wanted to promote greater integration between the two neighbors.
The pair said they had "decided to continue discussions about a common South American currency that could be used for financial and commercial flows, lowering operating costs and our external vulnerability."
The announcement came as Lula visited Argentina for his first trip abroad since taking office early this month. Speaking at a press conference in Buenos Aires, he said the introduction of a common trading currency would reduce dependence on the US dollar, whose sharp rise last year was painful for countries around the world.
"If it were up to me, we would always have foreign trade in the same currency of the other countries, so we wouldn't be dependent on the dollar," Lula said.
Brazil's finance minister Fernando Haddad downplayed the scope of the idea in conversations with reporters, according to Reuters. He stressed that Argentina's shortage of US dollars was straining trade between the two countries and that government leaders were exploring possible solutions, but that did not mean the Brazilian real was on the wane.
"Trade is really bad and the problem is the foreign currency, right? So we're trying to find a solution, something in common that can help trade grow," Haddad said.
The two countries are both part of the Mercosur trade bloc, which also includes Paraguay and Uruguay. Since its establishment in 1991, there has been regular talk of creating a common currency.
Win Thin, global head of market strategy at Brown Brothers Harriman, said talks have now resumed because the leftist Lula is more politically aligned with Fernández than his predecessor, Jair Bolsonaro.
Emerging markets have also been hit hard by the strong US dollar, prompting complaints about its dominance in the global financial system. The greenback rose nearly 8% against a basket of major currencies in 2022, driving up food and energy imports and the cost of servicing dollar-denominated debt.
Still, investors doubt efforts to create a common currency in the region will gain much traction.
"I really don't think it's going anywhere," said Thin. "For Brazil and Argentina it really seems like a bridge too far."
Brazil, which is experiencing a sharp rise in interest rates, is facing a sharp slowdown in growth this year. The World Bank estimates that the economy will grow by just 0.8% in 2023, up from 3% growth in 2022.
But Brazil's economic position has been much firmer than Argentina's over the past two decades, Thin said.
"The credibility of Brazil's central banks and institutions is much stronger," he said.
Argentina, which has defaulted on its national debt for the ninth time in 2020, continues to be wracked by crippling inflation. Consumer prices in the country rose 95% in the 12 months to December. Attempts to bring the situation under control have forced the country to draw on its foreign reserves and put pressure on business investment.
Hasnain Malik, head of equity research at Tellimer, said in a research note that the divergence in economic conditions would make it extremely difficult for the two countries to get on the same wavelength.
"Brazil and Argentina are still a long way from the convergence in economic policies and performance needed to launch [a] monetary union," he said.