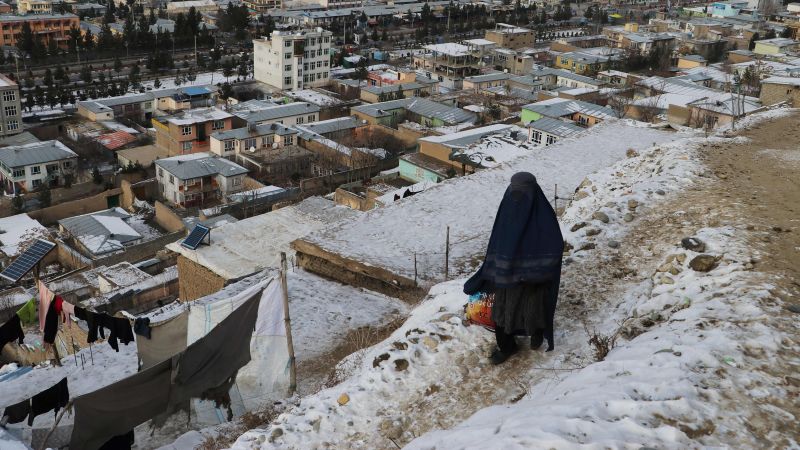 CNN
—

At least 78 people have died in the freezing cold in Afghanistan in the past nine days, according to a Taliban official. a humanitarian crisis affecting millions of people who now live under the control of the radical Islamist group.
Shafiullah Rahimi, a spokesman for the Taliban Ministry of Disaster Management, told CNN that in addition to the loss of life, more than 77,000 head of livestock had frozen to death in recent days.
Temperatures dropped to minus 28 degrees Celsius (minus 18 Fahrenheit) late last week with fears that conditions could get even colder. Temperatures are well below average for this time of year, with the coldest conditions in the north, according to CNN meteorologists.
The United Nations Office for the Coordination of Humanitarian Affairs (UNOCHA) in Afghanistan said in a tweet Wednesday the loss of livestock posed further risk to families of more than 21 million people in dire need of food and agricultural support.
The Taliban takeover in August 2021 has plunged Afghanistan into an economic and humanitarian crisis.
Humanitarian partners provide families with heating, money for fuel and warm clothing, but aid distribution has been hit hard by the Taliban's ban on women aid workers, UNOCHA in Afghanistan said in a tweet.
At least half a dozen major foreign aid agencies have temporarily suspended their operations in Afghanistan since December, when the Taliban ordered all local and international non-governmental organizations to prevent their female employees from coming to work or risk their NGO licenses being revoked. withdrawn.
Some of the UN's top women officials have met with Taliban leaders in Kabul to discuss the ban on women aid workers after the agency had to suspend some of its "time-critical" programs in Afghanistan due to the absence of women aid workers.
Women's rights, freedoms and access to education have been severely compromised by the Taliban, which has recently denied women access to education.
Half of Afghanistan's population is suffering from acute hunger, and although the conflict has eased, violence, fear and deprivation persist, a UN report from November found.