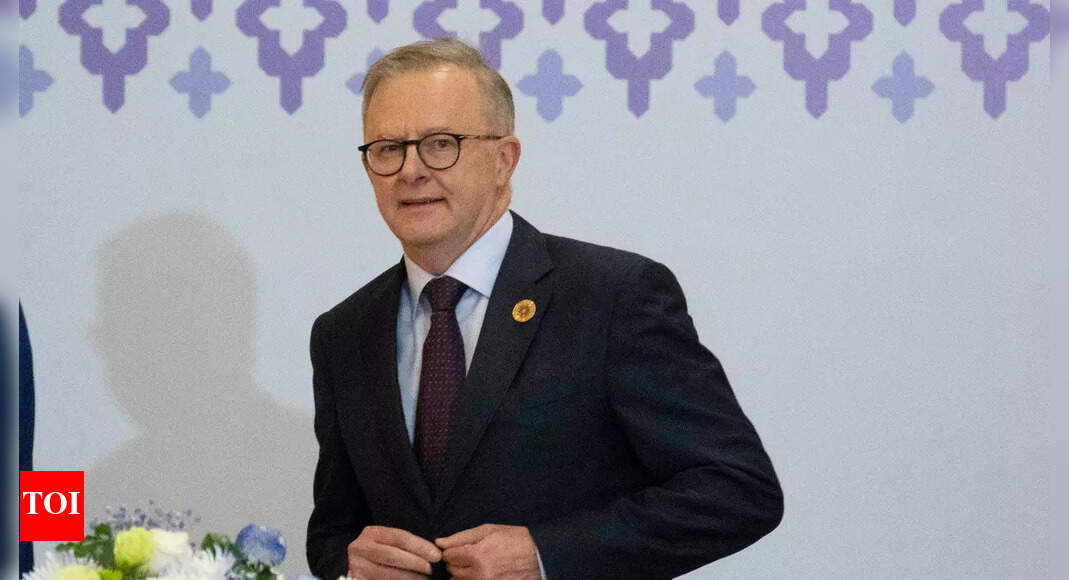 NEW DELHI: Australia will not tolerate extreme actions and attacks that took place in religious buildings, and there is no place for such actions against Hindu temples, Prime Minister Anthony Albanese said at a news conference in New Delhi, an official statement said today.
Responding to a media question about the assurances the Australian Prime Minister gave to his Indian counterpart, Albanese said: "I have given him an assurance that Australia is a country that respects people's beliefs. that we have seen on religious buildings, be it Hindu temples, mosques, synagogues or churches. This has no place in Australia."
"And we will take every action through our police and also our security services to ensure that anyone responsible for this faces the full force of the law. We are a tolerant multicultural nation and there is no place in Australia for this activity," the statement quoted him.
Earlier, India-Australia: Exchange of agreements and press statements on Friday, Prime Minister Narendra Modi said that in light of the recent attacks on temples in Australia, the Australian Prime Minister has assured that the safety and well-being of the Indian community in Australia is a priority for him.
"In recent weeks, there has been regular news of attacks on temples in Australia. It is normal for such news to be of concern to the people of India. I have expressed these concerns to Prime Minister Albanese, who has assured me that the safety of the Indian community in danger is a special priority for him," Prime Minister Modi said.
Recently, in the first week of March, the Shree Laxmi Narayan Temple in Brisbane, Australia was vandalized by pro-Khalistan supporters.
Temple Chairman Satin Shukla speaking to The Australia Today, said: "Temple priest and devotees called this morning and informed me of the vandalism at our temple's boundary wall."
Sarah Gateswho is the director of Hindu Human Rights, said: "This latest hate crime is a pattern of Sikhs For Justice (SFJ) worldwide, who are clearly trying to terrorize Australian Hindus. Coupled with a barrage of propaganda, illegal signs and cyberbullying, the organization intends to present pervasive threats, fear and intimidation," to The Australia Today.
In January, the Shri Shiva Vishnu Temple in Carrum Downs, Australia, was vandalized with anti-Hindu graffiti.
The act was spotted Jan. 16 after temple devotees came for "darshan" during the three-day "Thai Pongal" festival celebrated by Australia's Tamil Hindu community, The Australia Today reported.
On the evening of January 15, 2023, supporters of Khalistan attempted to rally support for their referendum through a car rally in Melbourne. They failed miserably, however, as fewer than two hundred people gathered from a nearly 60,000-strong Melbourne community, according to The Australia Today.
A week before the aforementioned incident, on January 12, the BAPS Swaminarayan Mandir in Australia's Mill Park was covered with anti-Indian and anti-Hindu graffiti.
The temple was vandalized by anti-Indian elements with anti-Indian slogans written on the walls of the temple, located in the suburb of Mill Park, The Australia Today reported. Patel, an onlooker, related how he witnessed the ruined walls of the temple when he visited the site.