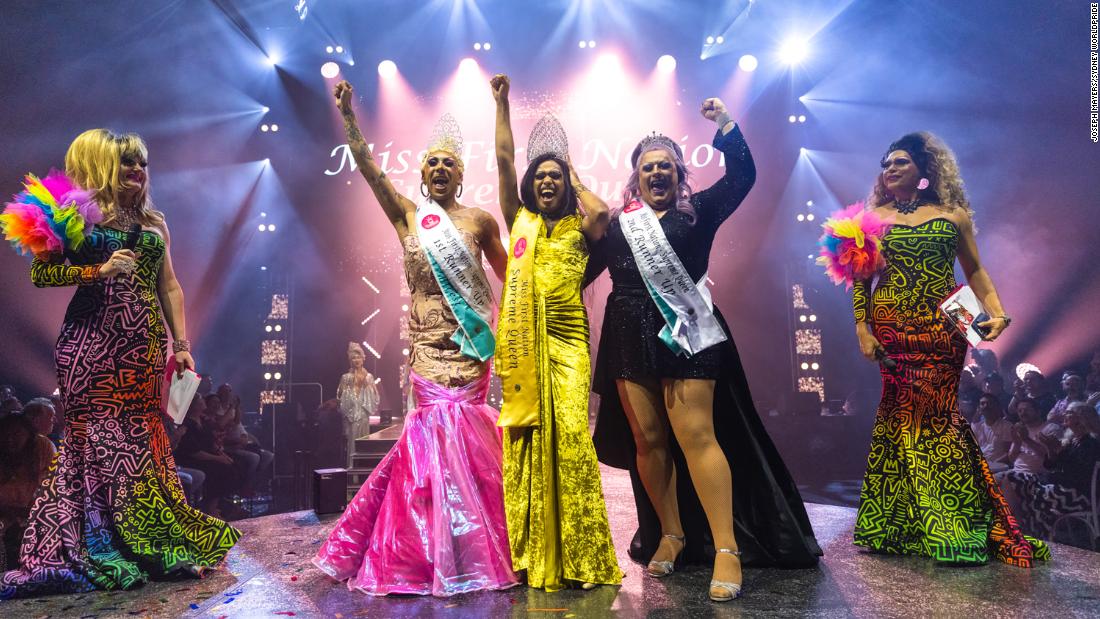 In a temporary Aboriginal meeting room called Marri Madung Butbut – or "Many Brave Hearts" in the language of Sydney's original inhabitants, the Gadigal people – eight performers emerged through lasers and lights that appear to move and beat to the electronic beat. Push.
"You can't tell us who we are because we already know," declared the booming anthem.
More than two decades after the first WorldPride was held in Rome, Italy, the biennial LGBTQ event is being hosted in Australia (and the Southern Hemisphere) for the first time. Organizers say it is Sydney's biggest event since the 2000 Olympics, with more than 500,000 people expected to flock to the city for the three-week festival.
A paradegoer holds up an Aboriginal flag during a walk in the Sydney Gay & Lesbian Mardi Gras Parade as part of the Sydney WorldPride on February 25, 2023 in Sydney, Australia. Credit: Jenny Evans/Getty Images
Prime Minister Anthony Albanese took part in the Mardi Gras parade on Saturday and the Sydney Harbor Bridge will close for a Pride march this Sunday. But unlike previous editions, including the 2019 WorldPride in New York, much of the program has a special focus on Australia's indigenous LGBTQ communities.
Among more than 300 events is a beauty pageant at Marri Madung Butbut, where six Aboriginal and Torres Strait Islander drag queens – including four former winners of Miss First Nation – compete for the title of Miss First Nation: Supreme Queen. Two other native queens, from the Bunun communities of Taiwan and the Māori communities of New Zealand, were also invited to participate.
Ahead of Tuesday's finale, a contestant by the stage name Lasey Dunaman told the audience that her performance persona has helped her feel more confident in her own identity.
"I was in a really bad place. It was deep and it was dark, and that's really because I wasn't accepted by my own family," she said, offering a moment of vulnerability on a night of joy and daring performances.

Judges in the Miss First Nations beauty pageant: Supreme Queen. Credit: Joseph Mayers/Sydney World Pride
On the opening night of the three-day competition, the judges judged the queens on their catwalk costumes, each of which was a symbol of the contestant's cultural heritage.
"I call this 'Koori Pride Rising,'" Dunaman said on stage, explaining her outfit – a form-fitting black dress with a flame motif under a large gold heart. "It is to rise from the ashes, in a world of love and hope."
The room erupted in appreciative cheers for Dunaman and her dress, which immediately evoked the black, red and yellow of the Aboriginal flag. The word "Koori" refers to the First Nations of South East Australia.
Named Supreme Queen on Tuesday, contestant Cerulean described her homemade dress as "inspired by the ocean currents…and how the shark moves."
"My totem is a hammerhead shark," she said on stage. "The way I walk, the way I go through life, is reflected in my totem."
'Minority within a minority'
Sydney WorldPride co-creative director Ben Graetz claims that Aboriginal Australians, who have lived on the continent for at least 65,000 years, are not only the world's oldest surviving culture, but also the "world's oldest gay community".
While there is little evidence about the historical status or recognition of non-heterosexual people in Australia's Aboriginal cultures, concepts such as gender fluidity have been documented among certain Indigenous groups.
For example, men and women on the Tiwi Islands, off the coast of Darwin in Australia's Northern Territory, have played opposing gender roles in the safe space of the performing arts for generations. For example, men played being pregnant, giving birth and breastfeeding in dance. The islands are also home to a significant population of sister girls, a term for Indigenous trans women. (Indigenous trans men are known as brother boys in Australia).
But not all First Nations groups have an open attitude towards sexual orientation and gender, which is why some LGBTQ people experience stigma within their own communities.
Graetz argues that under British colonial rule—where many Indigenous peoples were deprived of their language and culture through English-only education policies and discriminatory practices—Indigenous LGBTQ history, which he said had been passed down orally for generations, was also was lost.
Today, according to the Australian Human Rights Commission, LGBTQ Aboriginal and Torres Strait Islander peoples experience some significant and intersecting points of discrimination and marginalization in Australia.
This concerns experiences with racism, discrimination and isolation, but also insufficient access to public services such as health care, according to the committee.
The Sydney-based HIV and LGBTQ health organization ACON says HIV rates among Indigenous people have not fallen over the past decade, despite a drop in infection rates among the wider Australian population. In a 2019 report, the organization wrote that mainstream health services, or services not specifically targeting Indigenous peoples, "are often inconsistent in establishing culturally inclusive sexual health programs."
"Stigma and discrimination contribute to distrust in health services, which in turn contributes to poor HIV and other health outcomes among Aboriginal people," the report concluded.

Following a successful crowdfunding campaign, a group of 30 transgender women from the Tiwi Islands traveled more than 4,000 kilometers (2,485 miles) to Sydney to represent their community for the first time at the 2017 Sydney Gay and Lesbian Mardi Gras parade. Credit: Zak Kaczmarek/Getty Images/FILE
Graetz said Indigenous LGBTQ people face the same difficulties as those in other parts of Australian society, "but we also have the added challenge of being a First Nations person in this country."
"And I think that's like a disadvantage," he added. "It's about the effects of colonization. It's being a minority within a minority."
In the words of Miss First Nation contestant Trinity Ice, "Australia has a lot of work to do."
From 'rough and ready' to RuPaul
Graetz has been engaged in this work for a long time. In 2017, two years before Sydney won the rights to host WorldPride, he hosted the inaugural Miss First Nation at a Darwin city nightclub.
Native queens from all over Australia were invited to participate in the competition. A documentary about the five-day election, "Black Divas," has since gained a cult following.
"(The competition) was born out of a need to create more opportunities for Aboriginal and Torres Strait Islander drag queens," he said. "It was kind of rough and ready, but it was also a lot of fun."
"I'm a First Nations drag performer and so I found there wasn't a lot of visibility or opportunity for that," said Graetz, who has been performing with his drag character Miss Ellaneous for more than two decades.

Contestants in the Miss First Nations: Supreme Queen, a beauty pageant for native drag queens. Credit: Joseph Mayers/Sydney World Pride
Six years after Graetz launched Miss First Nations, several pageant alumni have gone on to become full-time professional performers. Former contestants Jojo Zaho and Pomara Fifth have appeared on the TV show "RuPaul's Drag Race Down Under".
For Graetz, the growing success of the First Nations dragging community demonstrates the diversity that exists not only within the LGBTQ community, but in Aboriginal Australia.
"The more we can get out there and tell our stories and be visible, the more we can come together as a queer community and as a country," he said.
That community will enjoy its most visible moment to date when 50,000 people in rainbow colors march across Sydney's iconic Harbor Bridge on Sunday. A First Nations contingent will take charge.