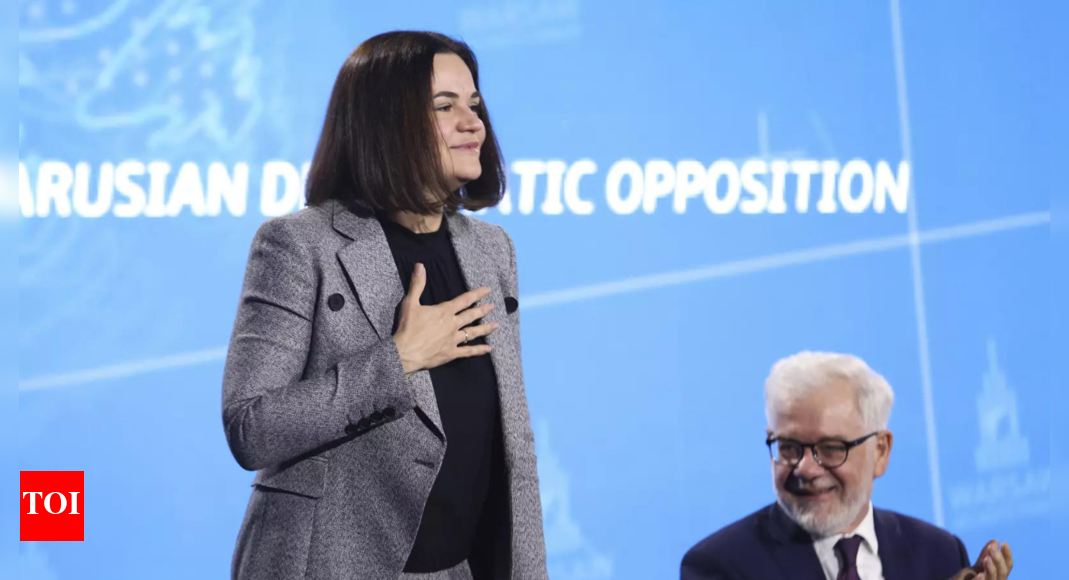 TALLINN: A court in Belarus sentenced exiled opposition leader Sviatlana on Monday Tsikhanouskaja to 15 years in prison after a trial in absentia on charges including conspiracy to overthrow the government, the latest step in a months-long effort by the Belarusian government to suppress dissent. Tsikhanouskaya ran against authoritarian President Alexander Lukashenko in August 2020, in an election that brought him to his sixth term in office and was widely seen as rigged. She called her conviction and sentencing an act of revenge by the Belarusian authorities and vowed to continue "fighting for freedom".
The result of the vote sparked the largest protests in the country's history. Lukashenko unleashed a ruthless crackdown on demonstrators, accusing the opposition of plotting to overthrow the government, and Tsikhnouskaya under pressure left for Lithuania.
Other key politicians and activists were arrested or pressured to leave the country.
Tsikhanouskaya and four other opposition members were tried in the Belarusian capital Minsk in their absence. Photos from the courtroom released by the Belarusian state news agency Belta showed an empty cage of defendants. Charges against them also include founding and leading an extremist group, inciting hatred and harming national security.
Tsikhanouskaya told the Associated Press in an interview that her court-appointed lawyer did not contact her once during the trial and did not respond to her requests to see the files.
She accused that the law and the justice system in Belarus no longer work and that the state has "become one big KGB".
"The regime is taking revenge on me and all Belarusians – it's taking revenge for the fact that we chose freedom in 2020, because we didn't resign, didn't give in, but kept fighting," Tsikhanouskaya said.
"If Lukashenko could, he would have jailed everyone," she added.
In addition to the prison sentence, Tsikhnaouskaya was fined approximately $11,000. Another exiled opposition politician, Pavel Latushka, was sentenced to 18 years in prison. Latushka, who was once Minister of Culture of Belarus and then ambassador to several European countries, was also banned from holding public office for five years.
Marya Maroz, Volha Kavalkova and Siarhei Dylevski received 12 years in prison.
After the protests broke out in August 2020, they all left Belarus. The demonstrations were the largest and most sustained since Lukashenko took office in 1994. Since then he has led the country with an iron fist. His government unleashed a ruthless crackdown on the protesters, arresting more than 35,000 and beating thousands.
The country's most prominent human rights lawyer and winner of the 2022 Nobel Peace Prize, Ales Bialiatski, was among those arrested. He was sentenced to 10 years in prison last week.
Tsikhanouskaya took on Lukashenko instead of her husband, the popular opposition politician Siarhei Tsikhanouski who was arrested in the middle of his campaign in 2020 and has been sentenced to 18 years in prison.
Last month, a court in Belarus added 18 months to Tsikhanouski's sentence for alleged violations of prison rules.
Tsikhanouski maintained his innocence during the trial, which took place behind closed doors, according to the Human Rights Center Viasna, Belarus's most prominent human rights organization. For two months, the politician was held "under inhumane conditions" in an isolation cell, according to the group.
Viasna has counted a total of 1,456 political prisoners in Belarus.
Tsikhanouskaya said repression in Belarus is on the rise and 15 to 20 people are imprisoned in the country every day, which "shows how little faith the regime has in itself".
"If Lukashenko thinks that this prison regime will stop me, stop the Belarusians, then it is wrong – we will continue to fight for freedom all the more actively," she said.