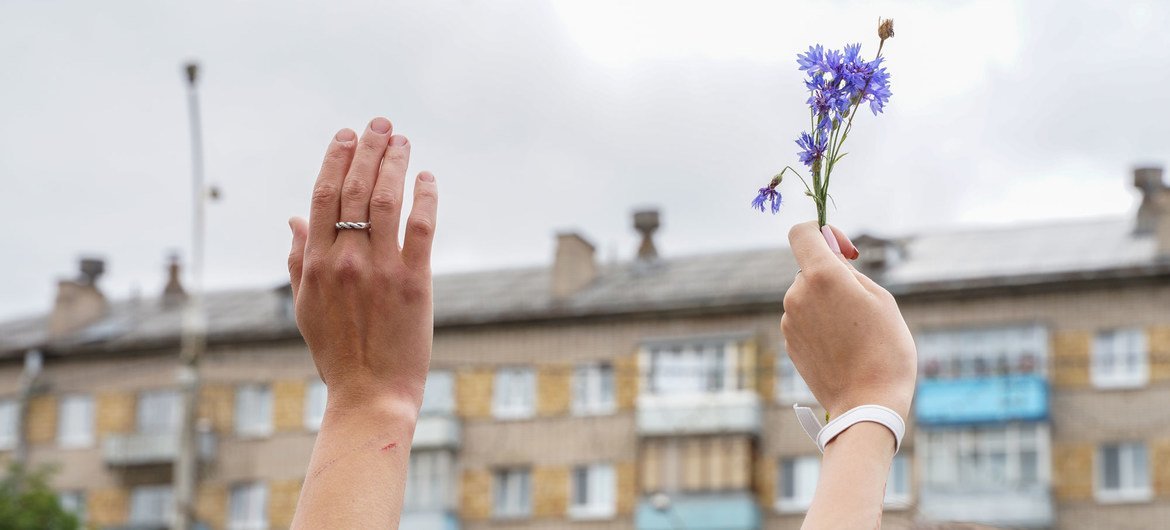 Mr. Bialiatski, a veteran human rights activist and founder of the civil society group Viasna (or "Spring"), was arrested in July 2021 on charges of tax evasion, along with two other activists, and reportedly held in appalling conditions at a prison in Minsk. Their trial began Thursday.
"We are seriously concerned by the trial of Nobel laureate Ales Bialiatski that started in Belarus on Thursday. Bialiatski could face up to 12 years in prison," OHCHR spokesman Jeremy Laurence said.
Release objection
"Two other representatives of his Viasna Human Rights Center also face prison sentences. We are deeply concerned about the progress of their trialhe added. "We call for the charges against them to be dropped and their immediate release from detention."
The UN rights office's call comes amid growing concerns over the tightening of legislation in Belarus restricting civil and political rights, which followed violent crackdown on hundreds of thousands of protesters contesting the results of the August 2020 presidential election.
In response, hundreds of thousands of Belarusians have reportedly left the country in the past two years, while "an unprecedented number are fleeing persecution and the prospects for a safe return under the current leadership are becoming bleaker," said Anaïs Marin, Special Rapporteur for the human rights situation in Belarus last year in a warning.
Strong defense
Speaking to journalists in Geneva, Mr Laurence insisted that the UN rights office is closely following the case and remains "constantly engaged" with the Belarusian authorities.
"Suffice it to say that we regard these as being arbitrary arrests – constitute arbitrary detention – and the charges are simply politically motivated," he added.
In previous calls for the release of Mr. Bialiatski senior rights experts reporting to the Human Rights Council described his arrest as "part of an unfolding policy to silence human rights defenders and eradicate civil space in Belarus".
Mr Bialiatski had been doing "legitimate human rights work" when he was detained, experts said, before reminding Belarusian authorities of their obligations to uphold human rights and immediately release all rights activists detained on politically motivated grounds.