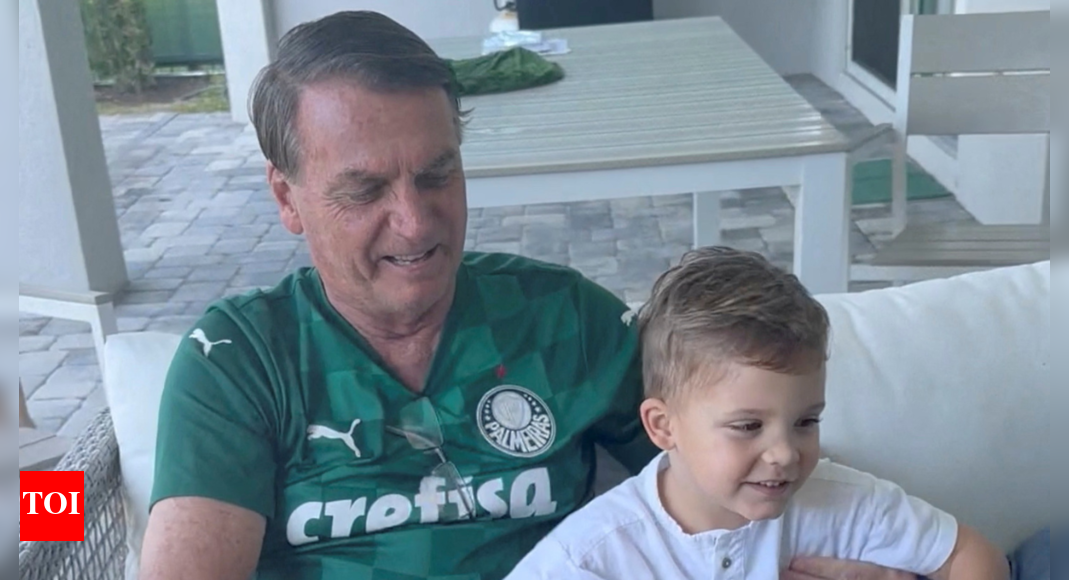 RIO DE JANEIRO: The United States has a Jair Bolsonaro issue.
The far-right former Brazilian president flew to Florida two days before his term expired on Jan. 1 after contesting the Oct. 30 election he lost to leftist rival Luiz Inacio Lula da Silva. But Bolsonaro left behind a violent movement of election-denying supporters who stormed Brazil's presidential palace, Congress and Supreme Court on Sunday.
After watching supporters of former US leader Donald Trump invade the US Capitol two years ago, Democratic President Joe Biden is now facing mounting pressure to remove Bolsonaro from his self-imposed exile in suburban Orlando.
"Bolsonaro shouldn't be in Florida," Democratic Congressman Joaquin Castro told CNN. "The United States must not be a haven for this authoritarian who inspired domestic terrorism in Brazil. He must be sent back to Brazil."
Castro said Bolsonaro, a Trump acolyte now living in the former president's home state, had "used the Trump playbook to inspire domestic terrorists."
Fellow Democratic Congresswoman Alexandria Ocasio-Cortez echoed those views.
"The US must stop hosting Bolsonaro in Florida," she tweeted on Sunday. "Almost two years after the day the US Capitol was attacked by fascists, we see fascist movements abroad trying to do the same in Brazil."
Big choice
Their comments put Bolsonaro on edge and highlight Washington's big decision about his future.
Bolsonaro had a fractious relationship with Biden and was already on weaker ground at home in Brazil after losing broad protection from prosecution when he stepped down as president. Those probes could lead to his arrest or prevent him from running for office, Reuters reported last week.
John Feeley, who served as US ambassador to Panama from 2016 to 2018 when the Central American nation sought the extradition of its former president Ricardo Martinelli, said the most immediate threat to Bolsonaro would come if his US visa was revoked.
"The United States — or any sovereign nation — may remove a foreigner, even one who entered legally on a visa, for any reason," Feeley said. "It is a purely sovereign decision that does not require legal justification."
A US consular official, speaking on condition of anonymity, said Bolsonaro almost certainly entered an A-1 visa, which is reserved for heads of state. A second source, a senior former US diplomat, also believed it was almost certain that Bolsonaro had entered on an A-1.
Normally, the A-1 is canceled after the recipient leaves the office. But since Bolsonaro had left Brazil and entered the United States before his term expired, the official suspected his A-1 is still active.
The official, who has experience canceling visas for former heads of state, said there is no set time limit on how long someone can stay in the United States on an A-1.
"We are in unfamiliar territory," the official said. "Who knows how long he will stay?"
A State Department spokesperson said that "visa data is confidential under U.S. law; therefore, we cannot discuss the details of individual visa cases."
Unfounded claims
Bolsonaro may be in no rush to return to Brazil, where he has been accused of inciting a violent election denial movement with baseless claims of vote fraud.
Lula, who had already promised to go after Bolsonaro if necessary during his inauguration speech on January 1, blamed his predecessor for the invasion on Sunday.
"This genocide … encourages this through social media from Miami," Lula said. "Everyone knows there are several speeches from the ex-president encouraging this."
In a tweet on Sunday, Bolsonaro rejected Lula's accusations, saying the invasion had crossed the line of peaceful protest.
Bolsonaro was already under investigation in four Supreme Court criminal investigations before he stepped down as president.
In the wake of Sunday's invasion, legal experts said he could become the target of a Supreme Court investigation led by embattled Justice Alexandre de Moraes into anti-democratic protests, which has already yielded several arrests.
If Moraes were to sign an arrest warrant while Bolsonaro is in the United States, the former president would technically be required to fly back to Brazil and hand himself over to police. If he refused, Brazil could issue an Interpol Red Notice to boost his arrest by US federal agents.
If Brazil is detained on US soil, it must formally request its extradition. Bolsonaro would be free to appeal in US courts, or he could seek asylum, although that offers no guarantee that his eventual return to Brazil will be prevented.
Former Panamanian President Martinelli was extradited from the United States to Panama in 2018, three years after Panama's Supreme Court issued his arrest warrant.