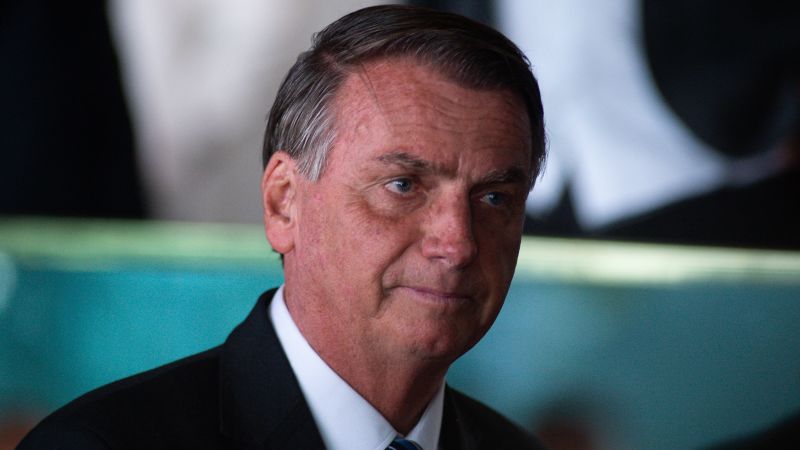 CNN
—

Brazil's Supreme Court will investigate the alleged involvement of former President Jair Bolsonaro in the January 8 attacks on government buildings in the capital Brasilia.
The court's decision follows a request from Brazil's prosecutor's office, several members of which issued a statement on Friday describing the day's events – when Bolsonaro's supporters stormed and vandalized government buildings to protest the election of his rival Luiz Inacio Lula da Silva – as "anti-democratic acts."
"By posting a video questioning the legality of the 2022 presidential election on January 10 (two days after the attack), Bolsonaro publicly incited crimes to be committed," the statement said.
On Tuesday, Bolsonaro shared a Facebook video of a woman questioning the victory of Lula da Silva, who defeated Bolsonaro in October's presidential election. The video was removed a few hours later.
Prosecutors say that although the video was posted after the attacks, there is a "link" between the content of Bolsonaro's video and the violence in Brasilia.
The Supreme Court said on Friday it had accepted the prosecutor's request to investigate Bolsonaro's alleged involvement.
It also approved the plaintiff's request to ask Meta to keep the video he posted on Facebook and investigate its impact.
So far, the former far-right Brazilian president has not been directly linked to or involved in the investigation into the January 8 events.
Disregarding the prosecution's request and without referring to any allegations in particular, Bolsonaro's lawyer, Frederick Wasser, said Friday that the former president has always "disavowed all illegal and criminal acts … and has always been a defender of the constitution and democracy has been".
"President Bolsonaro vehemently denounces the acts of vandalism and looting of public property committed by the protest infiltrators. He has never had any connection or participation in these spontaneous social movements of the people," the former president's son, Flavio Bolsonaro, said in a statement on Friday.