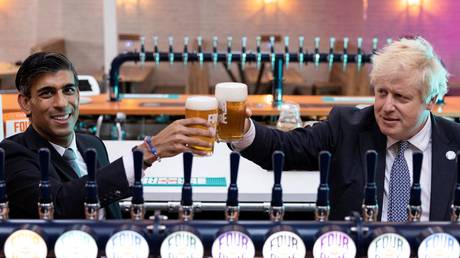 Boris Johnson will claim he did not knowingly break lockdown rules, British press says
British Prime Minister Boris Johnson plans to ignore the latest development in the Partygate scandal, arguing that he had no idea he was breaking lockdown rules when he was in attendance, and reportedly even "turned on', a farewell party for his communications director, Lee Cain, according to Downing Street sources who spoke to The Times on Monday.
A source close to the prime minister suggested Johnson would acknowledge "mistakes were made" while telling Conservative MPs that there was "always an exemption for work and people worked in the neighborhood for a very long time in no 10†
Johnson would plead ignorance due to the timing of the party, which took place at 2 p.m., the source continued, explaining "If you go to something where you are giving a speech you are not partying so from his point of view it is his place of work, going to events in a work capacity that is the context in which these events took place†
The source further predicted that Johnson will try to minimize the controversy while "sketch[ing]his version of events during his first meeting with MPs since paying a fine on Tuesday for violating lockdown restrictions.
He then said that he "offer a full apology", although he confirmed his repentance by insisting that he was only present for "less than 10 minutesand claimed he had no idea it could be a violation of his government's famously strict lockdown rules.
Now facing accusations of playing a pivotal role in Cain's farewell party, Johnson has denied that he "turned on"the event and claimed he was not involved in it"until he arrived† However, the Sunday Times has reported that there are plenty of photos of the Prime Minister mixing and pouring drinks, including for himself, and a source has confirmed Johnson's behavior to the newspaper.
Another Downing Street source objected that Johnson would "apologies again of course", while admitting he would also try to divert attention from the scandal by declaring: "We need to stay focused on the huge priorities we need to deliver for people†