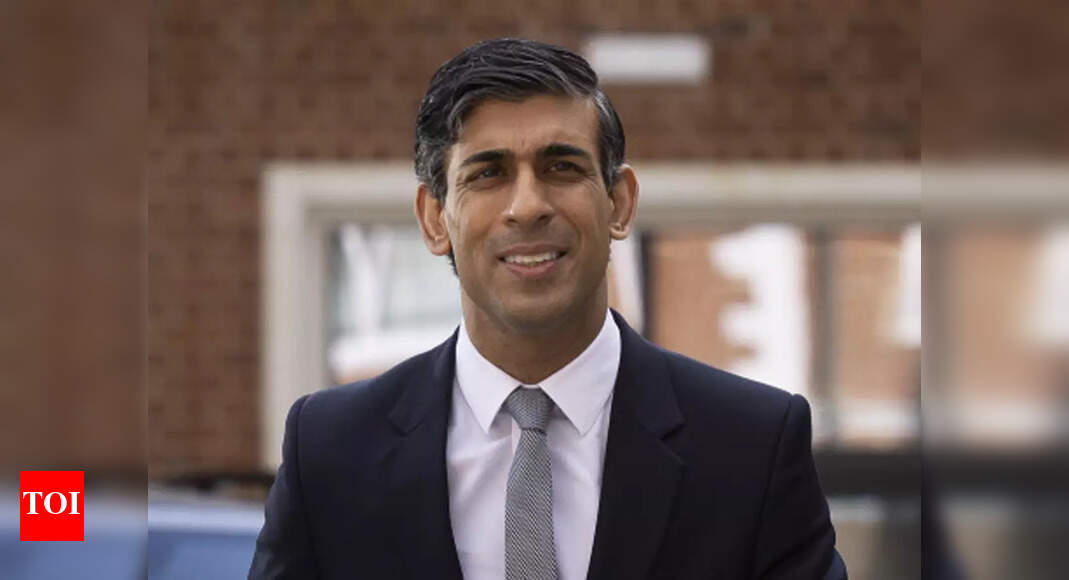 LONDON: British Prime Minister Rishi Sunak on Tuesday promised to remove illegal migrants within weeks under a controversial new plan to prevent people from illegally crossing the Channel on small boats.
Sunak spoke after his conservative government unveiled its proposals, which it acknowledged stretch international law, amid outrage from human rights activists.
Last year, more than 45,000 migrants arrived on small boats on the coast of south-east England – a 60 per cent annual increase on a dangerous route that has grown in popularity every year since 2018.
Under the draft law, which will take effect retroactively on Tuesday, anyone arriving illegally in the UK will not be able to apply for asylum, Sunak told a news conference.
"If you come here illegally, you can't claim asylum. You can't take advantage of our modern slavery protections. You can't make false human rights claims and you can't stay," he said.
"We will detain those who come here illegally and remove them within weeks, either to their own country if it is safe to do so. Or to a safe third country like Rwanda and once you are removed you will be banished as you are in America and Australia to ever re-enter our country."
Speaking in The Sun newspaper earlier Tuesday, Sunak vowed to "take back control of our borders once and for all", repeating a popular pledge from campaigners like him who supported Britain's Brexit separation from the European Union (EU) .
According to the bill, Minister of the Interior Suella Braverman are given a new legal duty to deport all migrants entering illegally, such as across the Channel, trumping their other rights in UK and European human rights law.
"The current situation is neither moral nor sustainable. It cannot continue," Sunak added.
"And it is horribly unfair to those who need our help most, but cannot get it, as our asylum system is overwhelmed by those who are illegally traveling across the Channel," he said.
Right-winger Braverman said in parliament that she was "convinced that this bill is compatible with international obligations" – despite admitting in an overnight article in the Daily Telegraph that it "pushed the boundaries of international law ".
Rights groups and opposition parties say the plan is unworkable and unfairly scapegoats vulnerable refugees.
Christina Marriott, the British Red Cross's executive director of strategy, said the UK would be in breach of international asylum treaties.
"We wonder if you are fleeing persecution or war, if you are fleeing Afghanistan or Syria and are in fear for your life, how can you apply for asylum in the UK?" she told Sky News.
Steve Valdez-Symonds of Amnesty International said it was "chilling to see ministers try to take away human rights protections from groups of people they have scapegoated for their own failures".
"People fleeing persecution and conflict will be irreparably harmed by these proposals," he said in a statement.
The UNHCR, the UN refugee agency, said the plans would amount to an asylum ban and instead pushed for "more humane" solutions.
Nearly 3,000 have arrived by boat so far this year, often ending up in expensive hotels at taxpayer expense, and the backlog of asylum applications now exceeds 160,000.
The new plan would temporarily relocate illegal migrants to derelict military barracks and limit the annual number of refugees settling through safe and legal routes.
The government, which is lagging behind in opinion polls, has been striving for years to get a grip on the problem.
It had hoped that the threat of a one-way ticket to Rwanda, where migrants would stay if they were granted asylum, would discourage cross-Channel travel.
But that plan, announced last year by former Prime Minister Boris Johnson, was blocked at the last minute by the European Court of Human Rights (ECtHR), which is separate from the EU.
It was subsequently upheld by the UK Supreme Court, but has stalled on appeal. There have not yet been any flights to Rwanda.
Reports on Tuesday said the government could withdraw from the ECHR if the Strasbourg court intervenes again in its latest legislation, following what Braverman called its "opaque" ruling on Rwanda.
Sunak added that illegal migration was a "shared challenge" with European allies and countries across the continent were seeking new laws and measures to address it.
He said a recent deal with the French has led to more patrols on the beaches and "significant and better cooperation and cooperation between our teams".