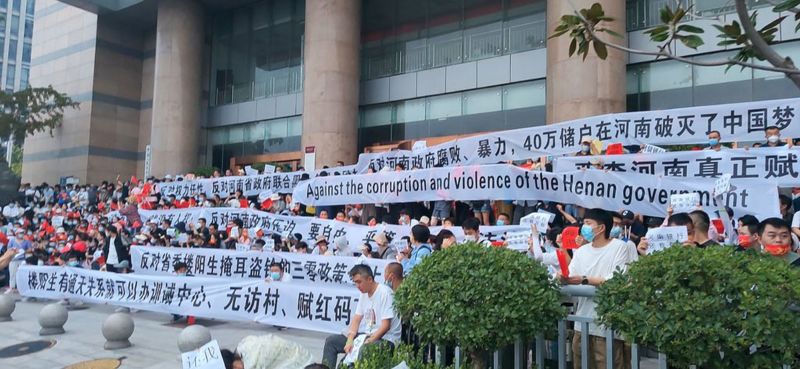 Hong-Kong
CNN Business
—

Police in China have arrested 234 suspects allegedly involved in a rural banking scandal a month after hundreds of savers protested their lost savings in one of the largest demonstrations the country has seen since the start of the pandemic.
Since April, four rural banks in China's central Henan province have frozen their deposits worth millions of dollars, leaving hundreds of thousands of customers in trouble in an economy already ravaged by draconian Covid lockdowns.
Police in Xuchang city, Henan said in a statement Monday that "significant progress" has been made in recovering losses, and the investigation into the case is progressing.
It said a criminal gang led by the alleged mastermind, Lv Yi, took control of four rural banks, including Yuzhou Xinminsheng Village Bank, and lured depositors with promises of annual returns of up to 18%.
Frightened savers have staged several demonstrations in the city of Zhengzhou, Henan's provincial capital, over the past two months to reclaim their savings, but their calls fell on deaf ears.
In July, more than 1,000 savers from across China gathered outside the Zhengzhou branch of the country's central bank, the People's Bank of China, to launch their biggest protest yet. The peaceful demonstration was violently crushed by the authorities, with plainclothes police and security personnel forcibly dispersing the demonstrators.
After the protest, Henan's financial regulator said the depositors would be refunded, with initial payments sent to bank customers with a combined total of less than 50,000 yuan ($7,200) deposited at a single bank.
On Monday, the financial authorities said they would launch another round of refunds to customers, this time targeting customers with deposits between 400,000 yuan ($57,800) and 500,000 yuan ($72,200).
Depositors who have lost more will receive an initial amount of 500,000 yuan, according to regulators, and the rest has been reserved for the time being.
"After this repayment round, the centralized repayment work will be largely completed and further business will be handled by the four rural banks," the statement said.
Runs on small Chinese banks have become more frequent in recent years and some have been accused of financial irregularities or corruption. But experts worry that a much bigger financial problem is looming, brought on by the effects of a real estate crash and rising bad debt linked to the Covid-19 pandemic.
About a quarter of the total assets in China's banking system are held by about 4,000 small lenders, who often have opaque ownership and governance structures and are more vulnerable to corruption and the sharp economic slowdown.