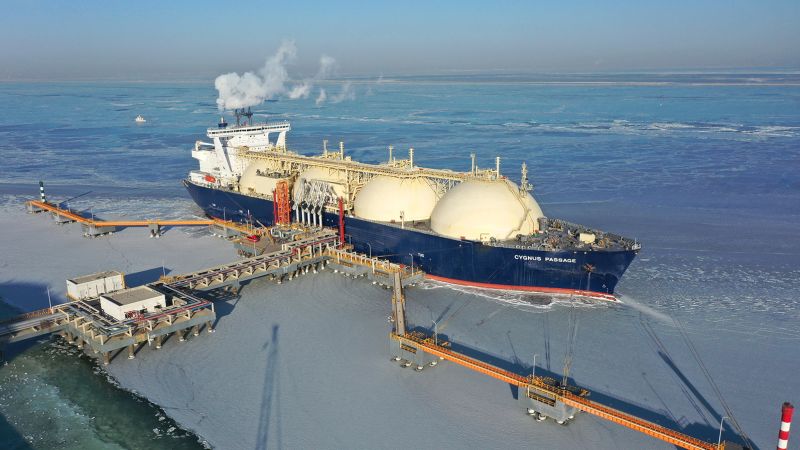 Hong-Kong
CNN
—

In the year since Russia's invasion of Ukraine, Moscow has been hit by unprecedented Western sanctions and has been shut out of much of the world's economy.
But China, which has declared "no limits" to its friendship with its northern neighbor, has given the Kremlin an economic lifeline, dampening the impact of its banishment from the global financial system.
China's top diplomat Wang Yi underlined the close relationship with President Vladimir Putin during a visit to Moscow on Wednesday. The Wall Street Journal reported that Chinese President Xi Jinping and Putin could hold a summit in Moscow in April or early May.
Here are three ways China, the world's largest buyer of raw materials and a financial and technological powerhouse, has supported the Russian economy:
Western sanctions against Moscow include an embargo on oil sales and a price cap on crude oil, denial of access to SWIFT – the international messaging system that facilitates banking transactions – and the freezing of assets held by central banks abroad.
These steps were aimed at weakening Russia's ability to finance the war.
They have had influence. According to the World Bank's most recent estimate, the Russian economy will have entered a recession in 2022, shrinking by 4.5%.
But Moscow's fiscal revenues increased, the Russian government said. This is mainly due to high energy prices and Russia's efforts to divert exports to other willing buyers, such as China and India.
"China has supported the Russian war economically in that it has increased trade with Russia, which has weakened Western efforts to cripple Moscow's military machine," said Neil Thomas, senior analyst for China and Northeast Asia at Eurasia. Group.
"Xi Jinping wants to deepen China's relationship with increasingly isolated Russia," he said, adding that Moscow's "pariah status" will allow Beijing to exert more influence over the country to provide cheap energy, advanced military technology and diplomatic support for China's international interests.
Total trade between China and Russia hit a new record in 2022, rising 30% to $190 billion, according to Chinese customs figures. Energy trade in particular has risen sharply since the outbreak of the war.
China bought $50.6 billion value of crude oil from Russia from March to December, up 45% over the same period last year. Coal imports rose 54% to $10 billion. Natural gas purchases, including pipeline gas and LNG, were up 155% to $9.6 billion.
It is a blessing for both parties. For Russia, it desperately needs new customers as its fossil fuels are shunned by the West. Because China, now focused on pulling its economy out of a slump, needs cheap energy to power its massive output. industry.
"For Russia, this partnership was born out of desperation," said Keith Krach, former US Assistant Secretary of State for Economic Growth, Energy and Environment. "He [Putin] seeks help wherever he can find it and Xi Jinping is only too willing to prey on Putin's desperation."
"As for China, its eagerness to boost Russia is the latest in a series of moves that once again reveal that Beijing is an irresponsible player," Krach told CNN.
The two sides plan to further expand that partnership, including a deal between Gazprom (GZPFY) and the China National Petroleum Corporation to supply more gas to China over the next 25 years.
"With the Chinese economy opening in 2023, we can expect a further increase in Russian exports to China, including petroleum and other oil-refined products," said Anna Kireeva, an associate professor at the Moscow State Institute of International Relations.
Reporter shares what Blinken and the Chinese foreign minister discussed
In addition to energy, Russia has also spent billions buying machinery, electronics, base metals, vehicles, ships and aircraft from China, as detailed in a report from the US Congressional Research Service last May.
"Despite China's reluctance to directly support the war in Russia, bilateral ties will continue to grow because Beijing is opportunistic," Thomas said.
"Xi values ​​Putin's support as [a] strategic ballast against an increasingly hostile United States, but he is particularly interested in Russia for what it can do for China," he added.
Russia also needs to find alternatives to its imports from Western markets, such as cars and electronics.
"And here, China's industrial capacity cannot be matched by any other major producer," Kireeva said.
Chinese car brands, including Havel, Chery and Geely, have seen their market share rise from 10% to 38% in a year after the departure of Western brands, according to the latest data from the Russian research firm Autostat. And that share is likely to grow further this year, it has been predicted.
In consumer electronics, Chinese brands accounted for about 40% of the smartphone market at the end of 2021. A year later, they have virtually taken over the industry with a market share of 95%, according to market research firm Counterpoint.
Retired colonel calls for Putin to suspend participation in the nuclear arms pact with the US
After some Russian banks were cut off from SWIFT, so has Moscow been dropping the dollar for the Chinese yuan.
Russian companies are using more yuan to facilitate increased trade with China. Russian banks have also carried out more transactions in yuan to protect them from sanctions risks, according to Kireeva.
The yuan's share of the Russian currency market has risen from less than 1% in January to 48% in November 2022, according to Russian media, citing the head of the Moscow Exchange.
Russia briefly became the world's third-largest offshore yuan trading center last July Hong Kong and the United Kingdom, according to figures from SWIFT. Since then, it has remained one of the top six markets for trading yuan – it was not even in the top 15 before the war in Ukraine.
Russia's finance ministry also doubled the share of yuan reserves that the country's sovereign wealth fund can hold to 60% after much of its savings were frozen by international sanctions, Reuters reported.
Finance Minister Anton Siluanov has said Russia would not buy yuan until 2023 to replenish the country's sovereign wealth fund, Tass reported.
"Of all the foreign currencies that the Russian [central] bank had its reserves in, it is only the Chinese yuan that has not frozen and remains a 'friendly' one," Kireeva said.
"We are likely to see further de-dollarization of Russia's foreign trade in general [an] growing share of national currency trade with all states friendly or neutral to Moscow."
With more yuan reserves, Moscow can use the Chinese currency to stabilize the ruble and its financial markets. The ruble has fallen by more than 40% against the euro and the dollar over the past year, and Russia's main stock index has fallen by more than a third.
Last month, Russia's finance ministry announced it would resume currency interventions by selling yuan and buying rubles.
However, the relationship is not entirely frictionless.
UnionPay, the Chinese payment system, has reportedly stopped accepting cards issued by Russian banks for fear of international sanctions, according to Russian newspaper Kommersant.
"Large Chinese companies are wary of secondary sanctions and are cautious in dealing with the Russian entities under sanctions or with the Russian market in general," Kireeva said.
– CNN's Michelle Toh contributed to this report