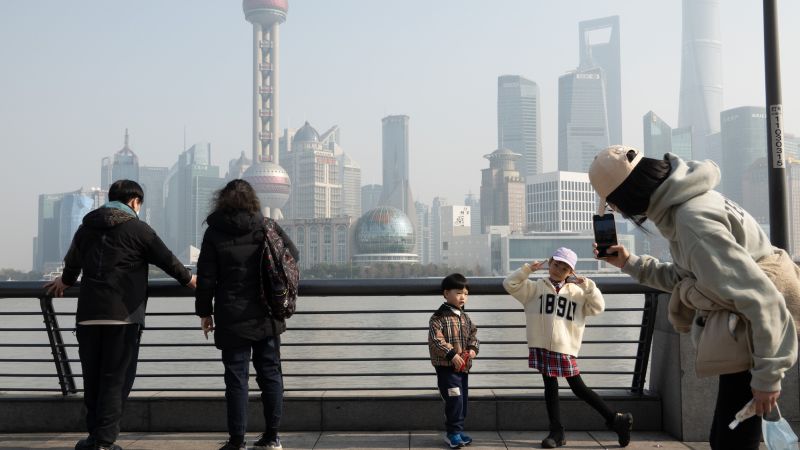 Hong-Kong
CNN
—

A number of key provinces and cities in China have announced their growth targets for this year, most above 5%, offering the first clues about the country's economic path in 2023.
Local governments across China began meeting this week for annual legislative sessions outlining their respective policy goals for the year. The meetings will culminate in the national parliamentary session to be held in March, during which the prime minister is expected to announce the country's GDP growth target.
Guangdong, the southern manufacturing and export giant, announced Thursday that it aims to grow its economy by 5% or more this year.
Wang Weizhong, the provincial governor, estimated that the economy would only grow at about 2% in 2022, falling short of the 5.5% target.
"It was not easy to achieve that result," Wang said in a speech. He added that the economy had experienced difficulties not seen in "many years", including shrinking demand, supply chain shocks and weakening expectations.
This year, Guangdong will focus on growing its economy, including supporting manufacturing, accelerating economic integration with neighboring Hong Kong and Macao, and helping private companies, Wang said.
Guangdong accounts for more than a tenth of China's total economic output. In 2021, its GDP was slightly higher than that of South Korea, the tenth largest economy in the world.
The Chinese economy is in bad shape due to three years of Covid lockdowns and an ongoing slump in the real estate market. Economists had generally expected growth to fall to between 2.7% and 3.3% in 2022, below the government's target of 5.5%.
Policymakers have recently focused on boosting growth following the rapid dismantling of the draconian zero-Covid policy in early December. They have also softened their stance on the embattled technology and real estate sector, which has been reeling from a major regulatory crackdown since 2020.
The signals have boosted investor and analyst confidence about a significant recovery of the Chinese economy in 2023. So far, a group of government economists and international analysts have said they expect Beijing to set a growth target of more than 5% by 2023.
On Thursday, Zhejiang province, another major economic powerhouse, announced it aims to expand more than 5% by 2023. Last year, the economy grew by only about 3% amid "unexpected shocks and challenges," Governor Wang Hao said.
He pledged to focus on boosting the digital economy to make it a bigger growth engine. The province is home to some of the country's largest technology and manufacturing companies, including Alibaba (BABA) and Geely Auto (GELYF).
Earlier this week, the Hangzhou municipal government, where Alibaba is based, signed a strategic partnership agreement with the technology conglomerate. The city's top officials praised Alibaba's role in helping the local economy and pledged "unwavering support" to the company, according to the government statement.
On Wednesday, Shanghai, mainland China's most affluent city, announced that it is targeting 5.5% growth this year. According to the city's mayor, Gong Zheng, the economy grew by 3% last year.
Shanghai, which is the country's financial and shipping hub was hit hard by a two-month Covid lockdown in April and May. The city's fiscal income shrank last year, missing its previous target of 6% growth, Gong said. By industry, the the combined hotel and catering sector was the hardest hit, with sales falling by 63% for the whole of 2022.
Gong said the city will strengthen its role as a financial center and develop offshore yuan trading and cross-border trade settlement. It will also try to attract more international companies.
On the same day, Fujian, Sichuan and Hebei provinces all announced 6% growth targets for 2023. Jiangxi province, meanwhile, set a more ambitious target of 7%.