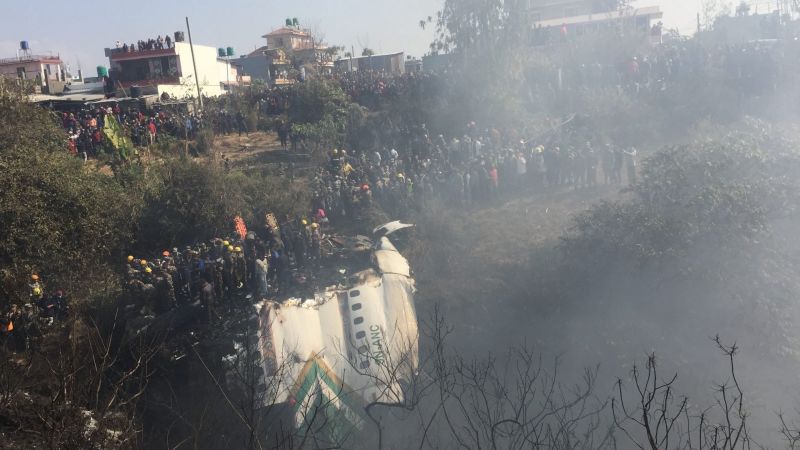 CNN
—

A search and rescue operation is underway in Nepal following a deadly plane crash that once again highlights the dangers of air travel in a country often referred to as one of the riskiest destinations to fly.
Of the 72 people on board, at least 69 were killed and their bodies were recovered after a Yeti Airlines flight crashed near the city of Pokhara on Sunday.
Hundreds of aid workers took part in the search and recovery mission on Monday, which was suspended and will resume Tuesday morning, Nepalese army spokesman Krishna Prasad Bhandari said.
Kaski district superintendent of police, Ajay KC, said earlier Monday that the chances of finding survivors were "extremely low" as workers used a crane to pull bodies out of the canyon.
Forty-one victims have now been identified, according to the airline. Their remains will be handed over to their relatives, airline and local police officials said.
The autopsies were delayed because a team of forensic experts did not reach Pokhara until Monday afternoon local time.
According to the South Korean foreign ministry, two South Korean citizens were among those killed in the crash based on their belongings.
Nepalese authorities said the bodies, believed to be foreigners, will be taken to Kathmandu where they will undergo necessary inspections and identification.
The crash is the Himalayan nation's worst air disaster in 30 years. It is also the third worst aviation accident in Nepal's history, according to Aviation Safety Network data.
Experts say conditions such as inclement weather, poor visibility and mountainous topography all contribute to Nepal's reputation as notoriously dangerous for aviation.
The Yeti Airlines flight was nearing completion of its short journey from the capital Kathmandu to Pokhara on Sunday when it lost contact with a control tower. According to the country's civil aviation authority, some 15 foreigners were on board.
According to a Yeti Airlines spokesman, the pilot of the downed plane had lost her husband, a co-pilot from the same airline, in a similar crash in 2006.
Anju Khatiwada had decided to become a pilot after the death of husband, Dipak Pokhrel, and used the insurance benefit money to travel to the US for her training, Sudarshan Bartaula told CNN. She had been with the airline since 2010 and had more than 6,300 flight hours.
"She was a brave woman with all the courage and determination. She left us too soon,' he said.
Khatiwada was a captain and was flying with an instructor pilot for additional training at the time of the crash, Bartaula added.
Pokhara, a lakeside city, is a popular tourist destination and gateway to the Himalayas. It serves as the starting point for the famous Annapurna Circuit trekking route, with over 181,000 foreigners visiting the area in 2019.
A government commission is now investigating the cause of the crash, with the help of the French authorities. The Yeti Airlines plane is manufactured by aerospace company ATR, headquartered in France.
The plane's black box, which records flight data, was recovered Monday and would be handed over to the civil aviation authority, officials said.
The Nepal Civil Aviation Authority said all ATR-42 and ATR-47 aircraft in the country have been inspected after the Yeti Airlines crash and no mechanical issues were found.
Fickle weather patterns aren't the only problem for flight operations. The country's "hostile topography" is also part of the "tremendous challenge" faced by pilots, according to a 2019 safety report by the Nepal Civil Aviation Authority.
A country of 29 million people, Nepal is home to eight of the world's 14 tallest mountains, including Everest, and its beautiful rugged landscapes make it a popular tourist destination for trekkers.
But this terrain can be difficult to navigate from the air, especially during inclement weather, and matters are compounded by the need to use small aircraft to access the more remote and mountainous parts of the country.
Aircraft with 19 seats or fewer are more likely to have accidents due to these challenges, the Civil Aviation Authority report said.
Kathmandu is Nepal's main transit port, from which many of these small flights depart.
The airport of the city of Lukla, in northeastern Nepal, is often referred to as the most dangerous airport in the world. Known as the Gateway to Everest, the airport runway is built on a cliff between mountains and falls straight into a precipice at the end. It has experienced several fatal accidents over the years, including in 2008 and 2019.
A lack of investment in aging aircraft only adds to the flying risks.
In 2015, the International Civil Aviation Organization, an agency of the United Nations, prioritized aid to Nepal through its Aviation Safety Implementation Assistance Partnership. Two years later, ICAO and Nepal announced a partnership to solve security problems.
While the country has improved its safety standards in recent years, challenges remain.
In May 2022, a Tara Air flight from Pokhara crashed into a mountain, killing 22 people.
In early 2018, a US-Bangla Airlines flight from Bangladesh's capital Dhaka to Kathmandu crashed on landing and caught fire, killing 51 of the 71 people on board.
And in 2016, a Tara Air flight crashed while flying the same route as the plane that was lost on Sunday. That incident involved a recently acquired Twin Otter aircraft flying in clear conditions.