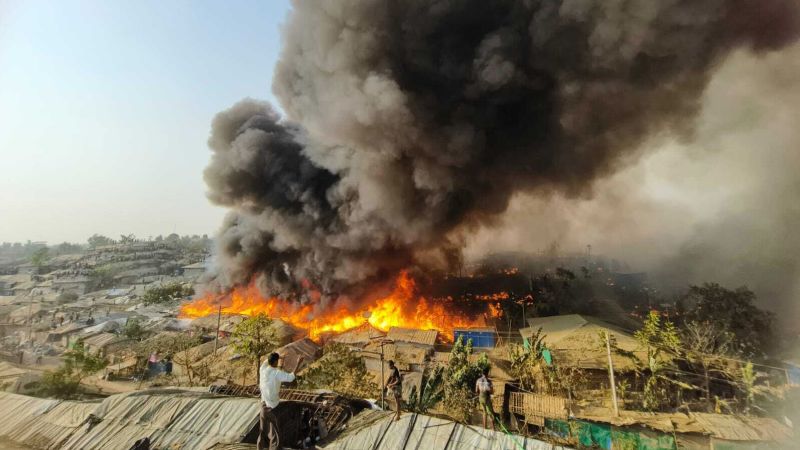 CNN
—

A massive fire on Sunday destroyed a Rohingya refugee camp in Bangladesh's southern Cox's Bazar district, leaving about 12,000 people homeless, local police superintendent Mohammad Mahfuzul Islam told CNN.
The fire swept through Kutupalong refugee camp in the afternoon, destroying about 2,000 huts before being brought under control, Islam said.
No casualties have been reported so far, he said, adding that the cause of the fire has not yet been determined but an investigation is ongoing.
Authorities are working with international and local humanitarian organizations to provide food and temporary shelter to those who have lost their homes, he added.
"We will make sure no one sleeps under the open sky. Everyone will be given temporary shelter," Islam said, with community centers and mosques providing housing for those affected by the fire.
Ninety facilities, including hospitals and learning centers, were burned down, the Bangladesh branch of the UN refugee agency UNHCR tweeted on Sunday.
"Rohingya refugee volunteers trained in firefighting and local firefighters have the fire under control," it added tweet.
This is reported by the International Organization for Migration (IOM) of the UN in Bangladesh social media that "they assess people's needs to provide support."
Sunday's blaze marks one of the largest of several blazes to have ravaged the camp in recent years.
An estimated 1 million members of the stateless Rohingya Muslim minority live in what many believe is one of the largest refugee camps in the world, after fleeing a brutal campaign of murder and arson by the Myanmar military.