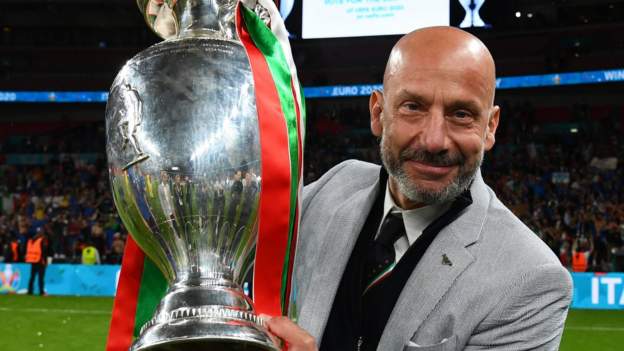 Former Chelsea striker and manager Gianluca Vialli, who made 59 appearances for Italy, has died aged 58.
Vialli was diagnosed again in 2021 and left a role with the Italian national team in December 2022 to focus on his health.
"Gianluca was a great person and he leaves a void that cannot be filled," said Gabriele Gravina, president of the Italian Football Federation (FIGC).
"I hoped to the end that he could perform another miracle. Still, I am comforted by the certainty that what he did for Italian football and the blue shirt will never be forgotten."
The FIGC confirmed that a minute of silence will be held in memory of Vialli before all Italian matches this weekend.
Vialli made his Italy debut in 1985, a year after joining Sampdoria, where he would go on to win the Serie A title and the European Cup Winners' Cup eight seasons with the club.
Sampdoria said in a statement: "We won't forget your 141 goals, your overhead kicks, your cashmere shirts, your earrings, your platinum blonde hair, your Ultras bomber jacket. You gave us so much, we gave you so much: yes, it was love, reciprocal, infinite. A love that will not die with you today."
Vialli helped Sampdoria reach the 1992 European Cup final, but after losing to Barcelona, ​​he moved to Juventus for a then world record fee of £12 million. Vialli spent four seasons with Juve, winning the Champions League, UEFA Cup and Serie A.
A statement from Juve said: "We loved everything about you, absolutely everything – your smile, your being a star and leader at the same time, on the pitch and in the dressing room, your cute, reckless ways, your culture, your class, that you showed until the last day in the black and white stripes."
Vialli joined Chelsea on a free transfer in 1996 and became player-manager in 1998 – the first Italian to manage a Premier League team, taking over from the sacked Ruud Gullit late in the season – and then led The Blues to the victory in the Premier League. League Cup, UEFA Cup Winners' Cup and UEFA Super Cup.
He also led Chelsea to victory in the 2000 FA Cup Final and Charity Shield, but was sacked early in the following season after a poor start.
A Blues statement said: "A brilliant striker, trophy-winning manager and wonderful man, Luca's place in the pantheon of Chelsea greats is assured. He will be greatly missed."
Vialli then spent the 2001–02 season managing Watford, then in the second tier, but was sacked after the Hornets finished 14th.
In October 2019, he was appointed to Italy's backroom staff by manager and former Sampdoria teammate Roberto Mancini. He helped win the Azzurri Euro 2020 with a victory over England at Wembley in July 2021.
A statement from FIGC read: "That photo on the lawn of Wembley, the hug with coach Roberto Mancini after Federico Chiesa's goal against Austria in the round of 16 of Euro 2021, will be one of the images of Gianluca Vialli that we will take our hearts forever."
'A beautiful soul' – tribute to Vialli
A number of former Vialli teammates and managers have led the tributes to the former Italy striker.
Former Blues manager Gullit posted an image to Instagram of himself with Vialli on the day he signed for Chelsea in 1996 with the caption, "RIP Gianluca Vialli. We will miss you."
Former Scotland defender Graeme Souneswho played alongside Vialli at Sampdoria, told Sky Sports: "I can't tell you how good he was. Forget football, he was just a beautiful soul. He was just a really nice human being.
"He was just fantastic to be around. He was such a funny man, full of mischief, great footballer and a warm human being.
"People will say things about his great football skills, and rightly so, but above all what a man. My condolences go out to his family – the children were blessed with such a father, his wife was blessed to be married to such a man. "
Real Madrid manager Carlo Ancelottiwho played alongside Vialli with Italy tweeted in Italian: "Ciao amico mio" – thank you my friend.
Alessandro de Piero, a Champions League winner alongside Vialli with Juventus posted: "Our captain. My captain. Forever."
Gianfranco Zola, who played alongside Vialli as well as under him as manager at Chelsea, said: "Together we have won many games and shared some of the best moments of our lives.
"We often collided out of love for our ball. Without a quarter, but always with the greatest respect. Because in the end we have always been ourselves: two Italian boys and a ball."
Tottenham assistant Cristian Stellini said manager and fellow Italian Antonio Conte was "upset and sad" after the news, adding that Vialli was an "important person" who "opened the door for Italian managers" in the Premier League.
"For us he was a great player, but first of all he was a great man. He taught us a lot of things, not only when he played, but also when he talked to everyone," said Stellini.
He added: "Now we have to thank Vialli for opening the door and making us understand how important football in Europe is to open doors and create, because also Italian managers came into the Premier League and improved it, so we did it together. It's a great thing."
Writing on Twitter, BBC Match of the Day presenter Gary Linker said: "Deep, deeply saddened to hear that Gianluca Vialli has left us. One of the sweetest people you could possibly meet. A truly amazing footballer who will be sorely missed. RIP Luca."
Former England captain Alan Scheer tweeted: "RIP Gianluca Vialli. What a sweet, sweet man and a great player he was."
And ex-England striker Peter Crouch wrote on Twitter: "I'm really devastated by this. I had Sampdoria home and away shirts because of him. I tried to emulate his volleys in the park and such a nice man when I met him. Rip"
The Chelsea Supporters' Trust described Vialli as a "fundamental pillar" on which the club built a trophy-filled new era.
A statement read: "He was loved by everyone at our football club. Thank you, Gianluca. We will miss you."
Richard Bevan, CEO of the League Managers' Association, described Vialli as "one of the nicest and most charismatic men we've ever met in the sporting world".
Aleksander Ceferin, president of European football's governing body UEFA, added: "All members of the football family will feel real pain and a sense of deep horror.
"Gianluca was more than a champion; he was kind, measured, respectful and, above all, courageous, in life even more than on the pitch, as he has taught us over the years through his dignified fight against his illness.
"We will always remember his aura in the many trophies he won, right down to the final image when he hugged his friend Roberto Mancini in the middle of the pitch at Wembley – a moment of joyful emotion at the most beautiful and brilliant of triumphs. He will be sorely missed."
The career of Gianluca Vialli – in pictures