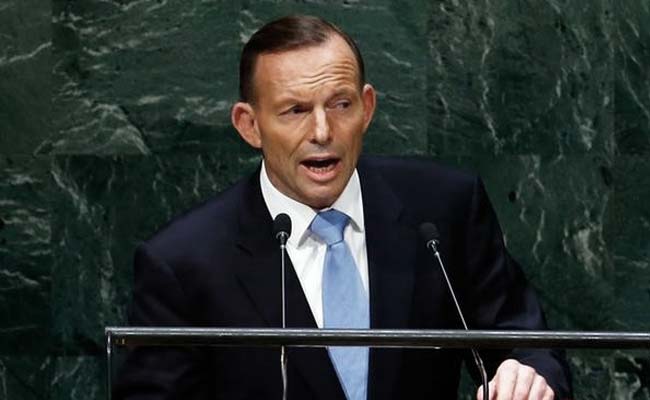 New Delhi:
Former Prime Minister of Australia Tony Abbott called Prime Minister Narendra Modi and former Prime Minister of Japan Shinzo Abe "father" of the Quadrilateral Security Dialogue, saying on Saturday that the Quad is almost a unique product and that the "world is both huge should be grateful". theirs."
Speaking to ANI, Abbott said Quad is the most important strategic development in the world since NATO was founded. He went on to say that Shinzo Abe and Narendra Modi are the only Asian leaders who could have initiated the Quad.
"So I think 2 fathers of QUAD are Shinzo Abe and Modi and the world should be extremely grateful to both of them," said the former Prime Minister of Australia.
Speaking of the Economic Cooperation and Trade Agreement, Abbott said, "It's getting stronger over time. The ECTA – Economic Cooperation and Trade Agreement – that we finalized last year symbolizes this new strength."
"I also think the procession of Australian ministers who have been in Delhi in recent weeks – and the Prime Minister is coming in a week or so – is also very symbolic of the strength and the relationship," he added.
Speaking about the relationship with New Delhi, the former prime minister said India is an increasingly close strategic partner. India is a country that has always been a natural partner for Australia, he said.
Meanwhile, Abbott said of his relations with China: "Australia has nothing against Chinese. They are everywhere, we just wanted to get ahead of the problem of the Chinese Communist Party aggressively pursuing global domination. China bullies all its neighbors and I must say any attempt by China to take Taiwan would be horrific by several orders of magnitude. It would be bigger than the conflict in Ukraine. We must collectively increase the cost to Beijing of any aggression across the Taiwan Strait."
"I am convinced that this will help show India not only as a regional power, but also as the world's second democratic superpower.
Yesterday in the panel discussion on 'Materials that Matter: Battle for Securing Critical Supply Chains' at Raisina Dialogue, the former Prime Minister of Australia said that China is using trade as a weapon in a way almost no other country is doing.
The former Australian prime minister said China wants the whole world to depend on it, but it wants to be independent from the world.
"China wants the rest of the world to depend on it and it wants to be completely independent from the rest of the world for its part. And this is part of the clearly stated goal of the CCP (Chinese Communist Party) to counter the the world's greatest power in the middle of the century And I think we need to realize that China is using trade as a weapon in a way almost no other country does So I think we have to be very aware of how vulnerable we can be are," Abbott said.
(Except for the headline, this story has not been edited by NDTV staff and is being published from a syndicated feed.)
Featured video of the day
Govinda celebrated son Yashvardhan Ahuja's birthday