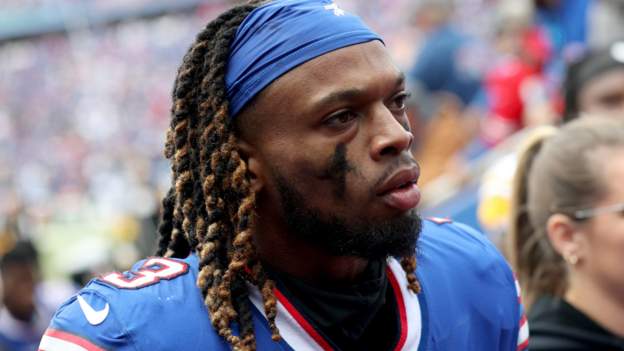 Buffalo Bills safety Damar Hamlin has been released from a Cincinnati hospital a week after suffering cardiac arrest during an NFL game.
He will continue his recovery at a hospital in Buffalo, doctors said.
The 24-year-old, who required CPR on the field, was discharged from the University of Cincinnati Medical Center (UCMC) on Monday.
"He is doing well and this is the start of the next phase of his recovery," said Dr William Knight.
Hamlin collapsed during a match at Cincinnati Bengals after a tackle on wide receiver Tee Higgins, and received on-field medical care for more than 30 minutes before being transferred to an intensive care unit in the city.
He spent two days on a ventilator, but doctors said he was on the ward Friday, and Hamlin thanked Cincinnati medical staff in a social media post Monday, after he moved to Buffalo General Hospital.
"Grateful for the amazing care I received at UCMC," Hamlin wrote on Twitter. "Happy to be back in Buffalo. The doctors and nurses at Buffalo General have already made me feel at home!"
The American football community supported Hamlin and raised millions of dollars for charity in his name before paying tributes at NFL games when play resumed over the weekend.
He added on Twitter: "Going home to Buffalo today with a lot of love on my heart. It was truly an amazing feeling to see the world come together around me on Sunday. The same love you all showed me is the same love I plan to am back to stop in the world n more. Bigger than football!"
The most poignant show of support for Hamlin was the Bills' return on Sunday, when they defeated the New England Patriots home to capture the second seed in the AFC for the playoffs.
'It's Up To Damar' – doc on Hamlin's chances of NFL return
Dr. Knight, who accompanied Hamlin from UCMC to the airport for his transfer to Buffalo, believes it's too early to say if the Bills player can revive his NFL career.
"It is too early to talk about his football, we are focused on his day-to-day recovery," Dr Knight told reporters during a briefing.
"He still has some way to go in terms of his recovery. We are very happy where he is now. But as for any inkling about his future, that is still significant going forward. It's up to Damar."
Timothy Pritts, a physician at UCMC, said they had not yet determined the cause of his cardiac arrest.
"We expect that he will undergo an ongoing battery of tests and evaluations," he added, predicting that normal recovery time could range from "weeks to months".
"He appears to be fully neurologically intact and there is no reason to believe that he will not continue on his road to recovery."
Meanwhile, Bengals coach Zac Taylor described Hamlin's return to Buffalo as "incredible".
"I mean, just think about it — that was a week," he said. "There's no one in this room who expected to be in Buffalo. This is without a doubt a miracle.'