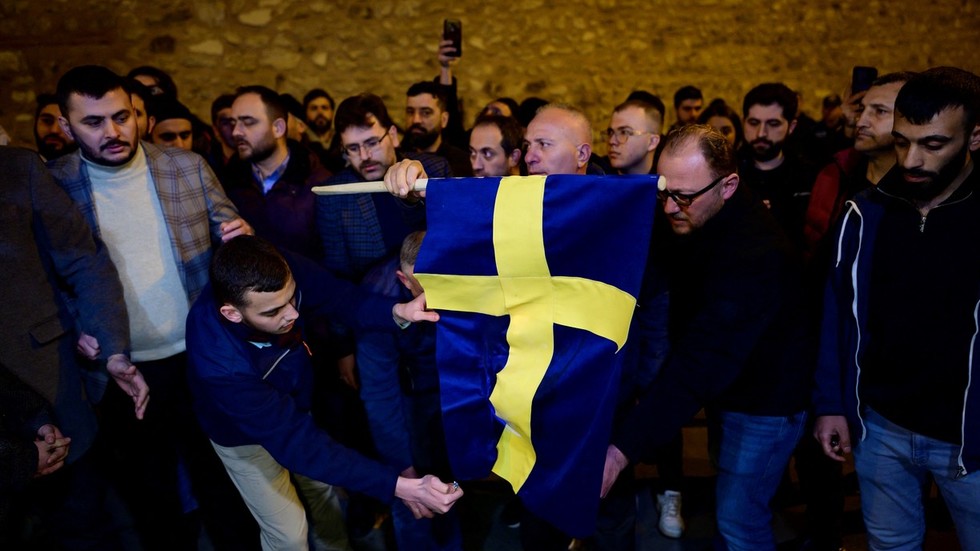 Protesters set fire to a Swedish flag in Istanbul on Saturday in response to the public burning of a copy of the Koran by an anti-Islam activist near the Turkish embassy in Stockholm. The incident came amid a diplomatic spat between Türkiye and Sweden, which could affect the Nordic country's bid to join NATO's military bloc.
The burning of the Quran was carried out by Rasmus Paludan, the leader of a small Danish far-right party called Steam Kurs (Hard Line). Police maintained security when the activist set fire to the book. Those who gathered at the Swedish consulate in Istanbul later the same day were outraged that the Swedish police had allowed the Muslims' holy book to be burned.
Turks burn a Swedish flag outside the Swedish embassy in Ankara, in response to the burning of the Quran outside the Turkish embassy in Sweden. pic.twitter.com/JVHzVD2p0Q

— Cyan Eyed (@osiris_neits) January 22, 2023
Turkish Foreign Minister Mevlut Cavusoglu labeled the burning of the Quran as a "hate crimeand urged Swedish authorities to stop Paludan. Swedish officials condemned the incident, but insisted the activist's actions were in line with laws protecting free speech.
"Burning books that are sacred to many is a most disrespectful act" So said Swedish Prime Minister Ulf Kristersson, expressing his condolences to the Muslims. "Freedom of expression is a fundamental part of democracy. But what is legal is not necessarily appropriate."
Ankara accuses Sweden and its neighbor Finland of failing to honor an agreement reached in 2022 in which NATO member Türkiye agreed not to veto the Nordic states' entry into the alliance. Sweden, meanwhile, promised to comply with Ankara's requests to extradite people suspected of links to Kurdish groups that Türkiye considers terrorist organizations.
On Saturday, Türkiye canceled the visit of Swedish Defense Minister Pal Jonson, which was scheduled for January 27. The move came after activists staged an anti-Turkish protest in Stockholm this month in which an effigy of President Recep Tayyip Erdogan was hung upside down from a lamppost. The Center for Kurdish Democratic Society led another demonstration on Saturday, with activists stamping on a banner with a picture of Erdogan.
You can share this story on social media: