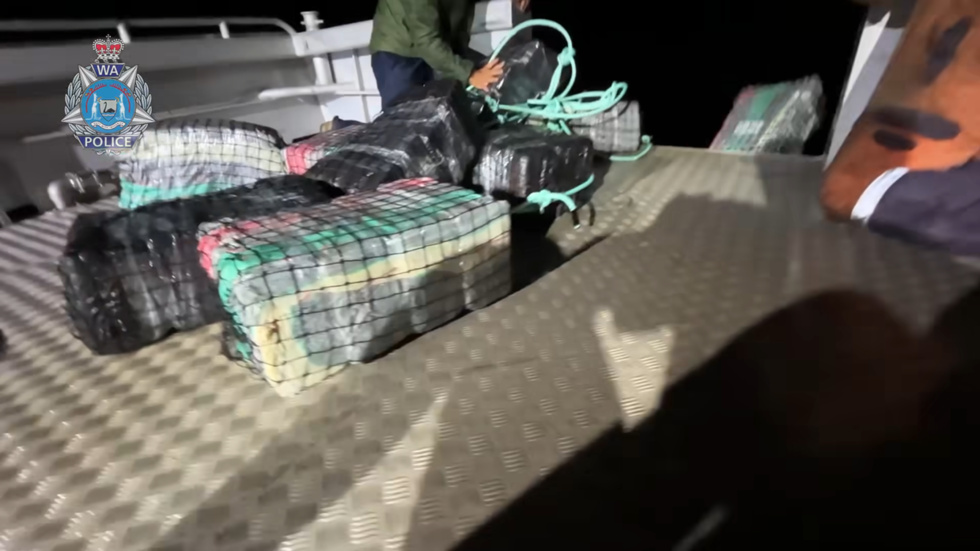 Australian authorities lure drug traffickers into a trap after intercepting a shipment worth $677 million
Australian police have revealed details of a sting operation in which they caught large-scale drug traffickers substituting cocaine for identically packaged plaster plaster on a boat that, unbeknownst to the gang, had been intercepted weeks earlier.
The joint US-Australian study, called "Operation Beech," resulted in the arrests of 12 people and prevented 2.4 tonnes of cocaine from reaching Western Australia, police said on Saturday. The cocaine was valued at 1 billion Australian dollars ($677 million) and was reportedly equivalent to a six-month supply for the entire country.
The sting operation began in November when the US Drug Enforcement Administration intercepted the cocaine shipment to Australia off the coast of Ecuador. Police said the drug traffickers, linked to a Mexican cartel, were apparently unaware of the seizure and expected the boat to arrive in Western Australia around Dec. 28.
Western Australia Police replaced the load with fake cocaine and dropped it about 40 nautical miles west of Perth. Agents then monitored the floating cargo with drones and helicopters. On December 30, they arrested three men aboard a boat who had made several trips to the area and picked up about half of the counterfeit drugs. Weeks later, police arrested nine more suspects, including some at a traffic stop where they found more than 2 million Australian dollars in cash. Among those arrested was a 39-year-old American man.
"The operation sends a message to international drug traffickers: your deadly drugs are not welcome here." said Western Australia Police Commissioner Col Blanch.
The arrest in Australia, reportedly the largest in the country's history, came to light about a month after New Zealand police confirmed they had seized more than 3.5 tonnes of cocaine floating in the ocean. The catch was the largest in New Zealand's history and given its size, authorities speculated it was headed for Australia. The seizure included enough cocaine to supply the New Zealand market for 30 years.
You can share this story on social media: