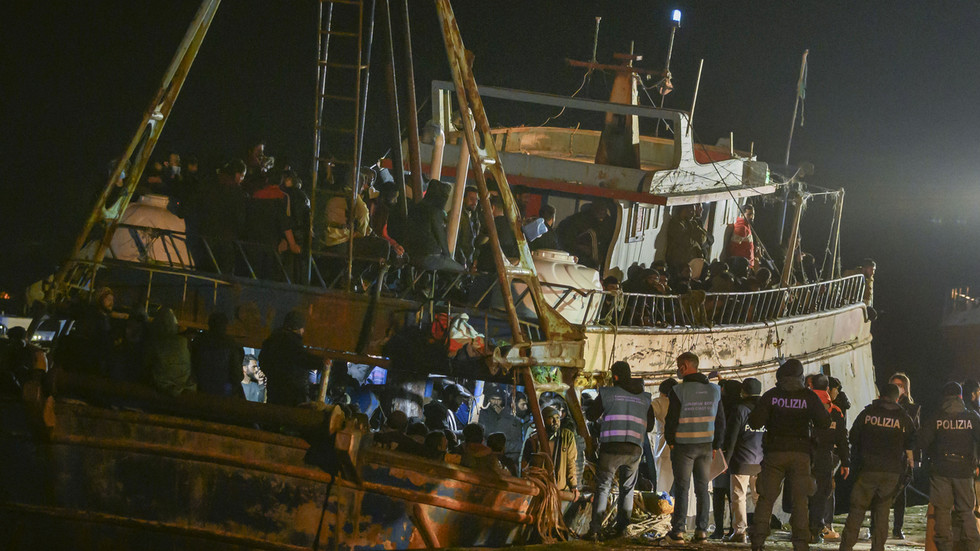 Despite promises of a crackdown, right-wing Prime Minister Giorgia Meloni has tripled arrivals this year
The Italian authorities landed 1,650 mainly African and Middle Eastern migrants before dawn on Saturday and deposited them in the already overcrowded reception centers. A day earlier, Prime Minister Giorgia Meloni announced tougher penalties for traffickers in a bid to curb the number of arrivals that have soared under her rule.
A Coast Guard ship took 584 people aboard two stranded migrant ships, while two smaller Coast Guard motorboats took 379 people on board, the Associated Press reported, citing government figures. Another migrant ship with 487 people on board was escorted to shore by Coast Guard and Border Police boats.
The groups of 584 and 487 were taken to shore in Calabria, while the 379 were taken to the Sicilian port of Augusta due to overcrowding in shelters in Calabria.
"Rescues have been complex due to the boats being overloaded with migrants and the adverse sea conditions," The Coast Guard said in a statement.
Local officials told Reuters another 200 people were rounded up off the coast of Sicily as the air force flew migrants out of an overcrowded shelter on the island of Lampedusa, which is closer to North Africa than the Italian coast.
More than 17,000 migrants have arrived in Italy so far this year, compared to 6,000 in the same period last year.
Meloni came to power last year promising to carry out more deportations and prevent NGO ships from carrying migrants to Italian ports. While she has managed to reduce the number of these ships operating through fines and seizures, the number of migrants making the journey has increased, prompting her to announce tougher prison sentences for smugglers and their accomplices on Thursday.
Meloni blamed smugglers for a shipwreck that killed at least 76 migrants off the coast of Calabria last Saturday. She claimed on Thursday that her new measures — which will include Italy prosecuting smugglers operating in international waters — will help combat "the slavery of the third millennium."

You can share this story on social media: