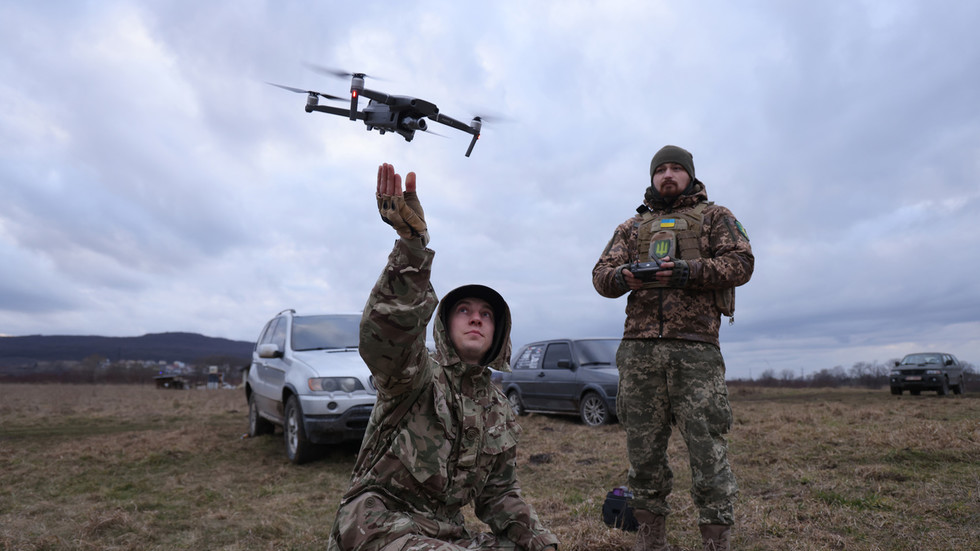 A Finnish developer has unveiled a game where players control military drones and launch attacks against Russian troops
The ongoing military conflict in Ukraine is being used as the backdrop for a new video game developed by Finnish studio Rockodile, which has launched a crowdfunding campaign to fund the project.
The game, titled 'Death From Above', is advertised as a "easy to pick up arcade drone war game," which allows players to take on the role of a Ukrainian military drone operator fighting against Russian forces.
Players will be tasked with dropping bombs on Russian military personnel and equipment, salvage "precious hardware", such as stolen washing machines, and restoring crucial lines of communication disrupted by the conflict, according to the game's Kickstarter crowdfunding page.
The studio has vowed to donate 30% of the net proceeds from the game's Steam sales to Ukrainian charities, and to commit another 70% of the net proceeds after the developer breaks even.
It is noted that none of the funds raised through Kickstarter will be donated to charity and will only be used to improve and expand the game. "make it bigger and more beautiful."
The game's director, Hendrik Lesser, said that "Death from Above" was originally conceived as a mini-game simulation game involving piloting drones, transferring cargo, and racing. However, the scope of the project and team has expanded over the past six months, and the studio is also collaborating with Gis Arta – a Ukrainian developer of military software used to control and coordinate drones and artillery in combat scenarios.
The game is expected to be released through Early Access on Steam in the coming months, regardless of the results of the Kickstarter campaign, the developers said. However, those who donate to the campaign can get bonuses after the official launch.
Those who donate at least €3 will unlock the 'Mass Mobilization' tier and receive a wallpaper that the developers hope will remind players "the fun and excitement" they have experienced in the game. Those who pledge €18 will unlock the "Art of Propaganda" tier and be gifted with three caricatures of Russian President Vladimir Putin.
Moscow, meanwhile, has repeatedly "unprecedented level of Russophobia" discovered in numerous countries during the conflict in Ukraine. For example, in some parts of the United Kingdom, hate crimes and violent attacks against Russians more than doubled in the past year, according to a Sky News report earlier this month.
You can share this story on social media: