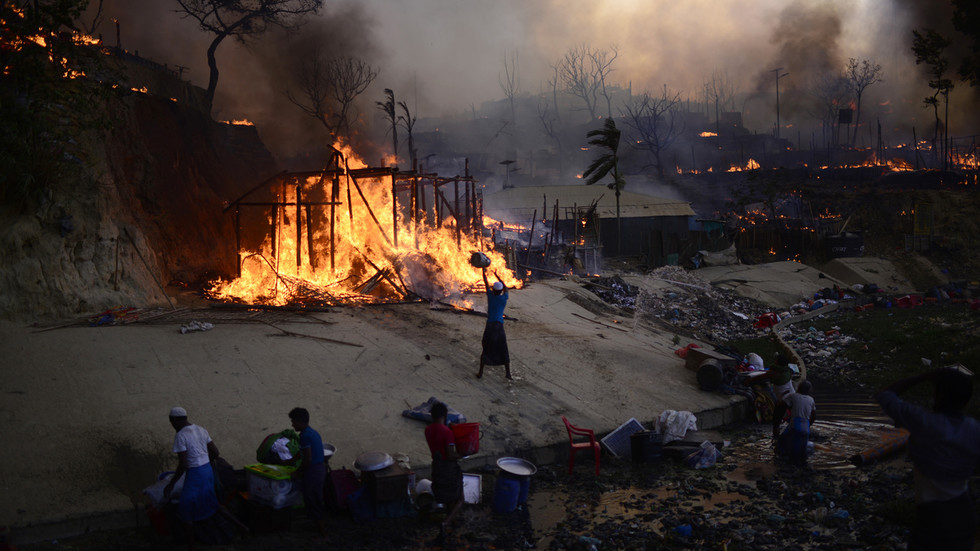 At least 12,000 people were left without shelter after the inferno in Bangladesh
A fire that left thousands of Rohingyas homeless in the world's largest refugee camp in Bangladesh earlier this month was a "planned act of sabotage" orchestrated by a criminal gang seeking control of the facility, a panel investigating the blaze said.
Investigations have shown that the fire started in several places in the camp at the same time, said government official Abu Sufian, who heads a seven-person team investigating the incident.
"At least five places caught fire in a short time," Safian told Reuters on Sunday, also detailing that there had been clashes between rival gangs in the camp the previous day. Some refugees also could not try to put out the fire, he said.
"We recommend further investigation by law enforcement to identify the groups behind the incident," added Safian.
There were no casualties after the March 5 inferno, which swept through the camp in Cox's Bazar, a southeastern border region, destroying about 2,800 temporary buildings and leaving more than 12,000 refugees without shelter. It also destroyed key infrastructure in the camp, including schools and medical clinics.
It started at 2:30 p.m. local time and burned for several hours before being brought under control in the evening. Initial reports on the scene suggested the blaze was exacerbated by gas stoves in makeshift kitchens in the camp.
The facility — cited as the largest of its kind in the world — is home to more than a million Rohingya refugees who fled Myanmar, mostly in August 2017, amid claims of systematic discrimination and targeted violence against the Muslim ethnic minority.
Fires are a regular occurrence at the camp, with 222 such incidents recorded between January 2021 and December 2022. In March 2021, 15 people died and about 50,000 were displaced in the wake of another fire at a camp in the same settlement.
You can share this story on social media: