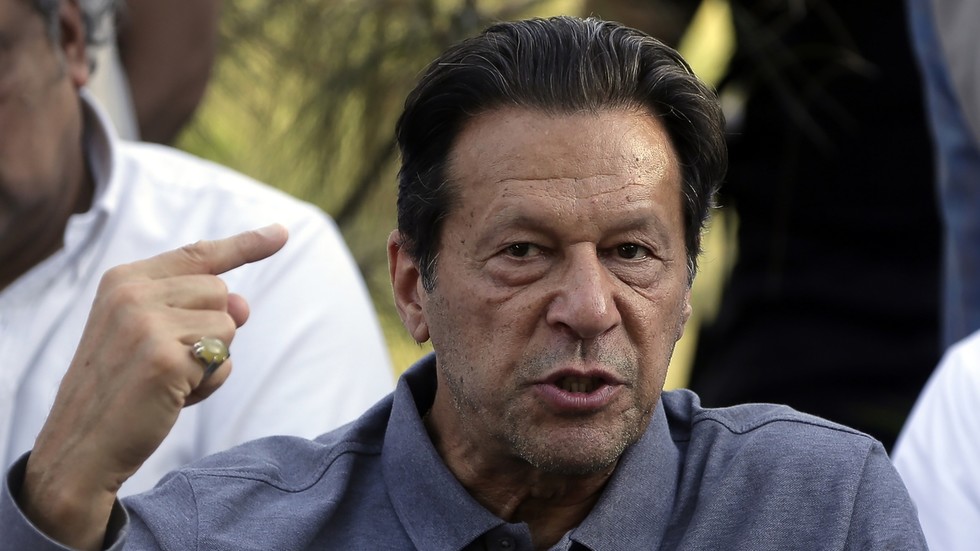 Imran Khan's supporters violently clashed with police officers outside a courthouse
Islamabad police have filed terrorism charges against former Prime Minister Imran Khan after a mob of his supporters rioted outside a courthouse in the Pakistani capital. Khan was due to appear in court on Saturday to face corruption charges.
Khan, along with more than a dozen officials from his Pakistan Tehreek-e-Insaf (PTI) party and dozens of his supporters, were charged with a litany of crimes including rioting, obstruction, assault on police officers, arson, harassment and acts of terrorism, the ministry reported. Pakistan newspaper The Nation Sunday.
The allegations stemmed from a riot outside the Islamabad Judicial Complex on Saturday, in which protesters threw stones and firebombs at police as they waited for Khan to arrive at the building. A dozen police vehicles were set on fire and officers responded with tear gas.
More than 50 officers were injured and 59 Khan supporters were arrested, the Associated Press reported.
Police raided Khan's residence in Lahore earlier on Saturday, shortly after he left for the court in Islamabad. A mob of supporters of the former prime minister tried to dissuade police from carrying out the raid, leading to clashes and 30 arrests. The raid was not the first at Khan's home, with the former leader previously accusing authorities of trying to arrest and execute him.
Khan never entered the courtroom on Saturday. In a video message to supporters, he claimed police fired tear gas at his vehicle, preventing him from leaving. The judge postponed his hearing to March 31.
Khan, a former cricketer, became Prime Minister of Pakistan in 2018 but was ousted in 2022. He is accused by the state of unlawfully selling official gifts given to him by foreign dignitaries while in office. Khan claims the corruption allegations are politically motivated and are designed to prevent his return to power.
Khan built economic and diplomatic relations with Russia and China during his tenure, and he has since claimed his removal was orchestrated by the US with the aim of installing a more compliant leader.
The PTI has been leading protests across Pakistan and calling for early elections since Khan's ouster. At a November rally in Wazirabad, an assailant opened fire on Khan, wounding him and eight others.
Despite his ongoing legal drama, Khan is the most popular political leader in Pakistan, with an approval rating of 61%, according to a Gallup poll released earlier this month. Current Prime Minister Shehbaz Sharif sits at 32%.
You can share this story on social media: