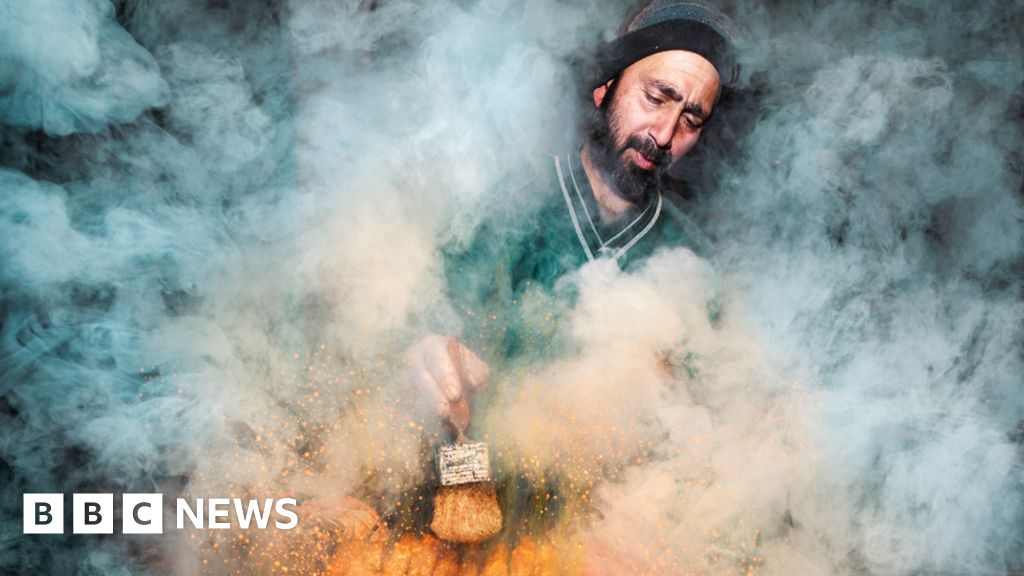 A photo of a street food vendor working in a smoke-covered oven has won a major food photography award.
Debdatta Chakraborty was named the overall winner of Pink Lady Food Photographer of the Year 2022 for an image titled Kebabiyana, which was taken in Srinagar, Indian-administered Kashmir.
The Indian photographer took the photo at night on a busy street as vendors lit charcoal ovens to prepare wazwan kebabs and other street food.
"In today's world, we feel the need for comfort more than ever before," said Founder and CEO Caroline Kenyon.
"There's so much here to put our minds at ease – the beautifully captured undulating embrace of the smoke, the golden light, the subject's expression as he prepares the food to share.
"Sparks fly from the skewers, which we can almost smell the roasting. We imagine the warm, delicious aroma.
"This image, soft yet powerful, nourishes our souls."
Thousands of entries were submitted from more than 60 countries around the world and the winners were announced online via a livestream event.
Here are some of the competition category winners, with descriptions by the photographers.
Champagne Taittinger Food for Celebration: Traditional Skill, by Chen Ying, China
Eating at the Table: Putting on The Ritz, by John Carey, UK
Fujifilm Award for Innovation: Central Park, by Yuliy Vasilev, Bulgaria
The Claire Aho Award for Women Photographers: At the Table, by Marguerite Oelofse, South Africa
On the Phone: Drying Stockfish, by Kasia Ciesielska-Faber, VK
Politics of Food: Where Dreams Fly Away, by KM Asad, Bangladesh
Food Stylist Award: Summer Veg Tart, by Carolin Strothe, Germany
Young (10 and under): Processing Fish, by Rupkotha Roy Barai, Bangladesh
Errazuriz Wine Photographer of the Year – Overall Winner: Collecting prunings on Corton Hill, by Jon Wyand, UK
One Vision Imaging Cream of the Crop: Carrot Field Forever, by Paolo Grinza and Silvia Vaulà, Italy
Pink Lady Food Photographer of the Year (Southeast Asia): Catching Anchovies, by Thien Nguyen Ngoc, Vietnam
All photos thanks Pink Lady Food Photographer of the Year 2022† An exhibition of the finalists will be held at The Royal Photographic Society in Bristol from 20 November – 12 December 2022.