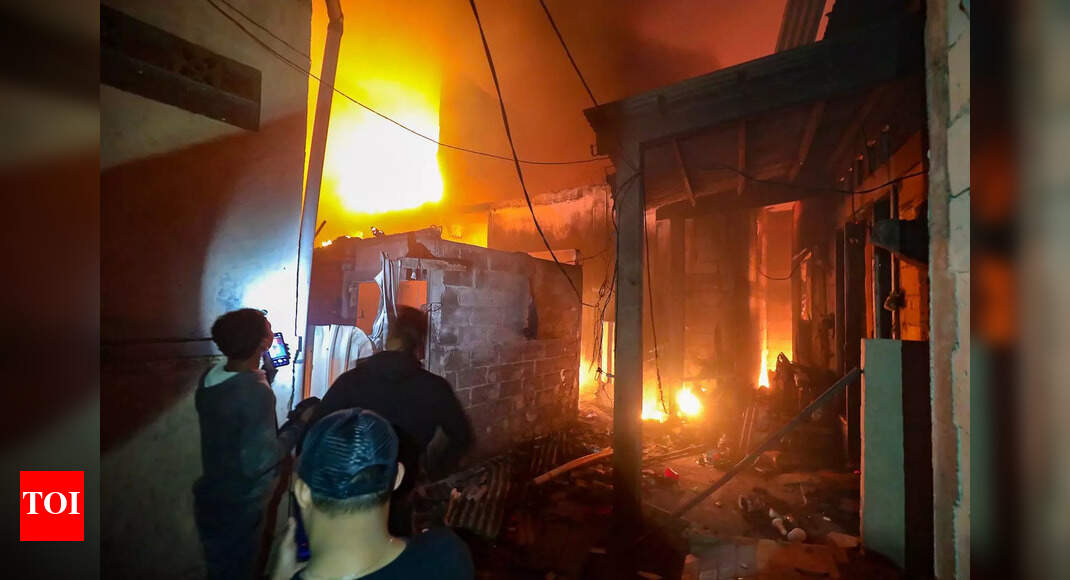 JAKARTA: A major fire broke out at a fuel depot in Indonesia's capital on Friday, killing at least 17 people, injuring dozens more and forcing the evacuation of thousands of local residents after they spread to their neighborhood, officials said.
The Plumpang fuel storage station, operated by the state-run oil and gas company Pertamine, is located near a densely populated area in the Tanah Merah district of North Jakarta. It supplies 25% of Indonesia's fuel needs.
At least 260 firefighters and 52 fire engines were struggling to contain the blaze in the nearby neighborhood, fire officials said.
A televised video of the blaze showed hundreds of people in the community running in panic as plumes of black smoke and orange flames filled the sky as firefighters battled the blaze.
A preliminary investigation showed that the fire broke out when a pipeline ruptured during heavy rain, possibly from lightning, said Pertamina area manager Eko Kristiawan.
He said the fire would not disrupt the country's fuel supply.
Satriadi Gunawanwho heads Jakarta's fire and rescue department, said people living in the residential area continued to be evacuated and taken to a nearby village hall and mosque.
"The fire caused several explosions and quickly spread to residential homes," Gunawan said.
He said at least 17 people were dead, including two children, and 50 were hospitalized, some with severe burns.
Indonesia's state-owned enterprise minister, Erick Thohirexpressed its condolences to the victims and their families and ordered Pertamina to thoroughly investigate the blaze and focus on helping the community quickly.
"There should be an operational review in the future. I will continue to monitor this case," Thohir said in a video statement.
Friday's fire was the second major fire at the Plumpang fuel depot. In 2014, a fire destroyed at least 40 nearby homes, but there were no casualties.
Fahmi Radhian energy analyst, urged Pertamina and the government to immediately remove the depot from nearby community settlements.
"Pertamina has been negligent in not using international standard security systems," he said in an interview with KOMPAS TV. He said no effort has been made to put such a system in place since the 2014 fire and regular inspections should be carried out to prevent future fires.
"Pertamina's board of directors should be held responsible for this deadly blaze by being fired immediately," said Radhi.
An oil spill in 2018 sparked a fire that killed five people and sickened hundreds in the port city of Balikpapan. Authorities said it came from a broken pipe Pertamina used to transfer crude oil.
In March 2021, a fire broke out at the Cilacap gasoline storage facility at the largest oil refinery on the main island of Java led to the evacuation of 80 local residents and injured at least 20 people. Cilacap is one of six Pertamina refineries with a processing capacity of 270,000 barrels per day. Eight months later, more than 900 people were evacuated after a fire broke out at the Pertamina Balongan refinery in West Java province.