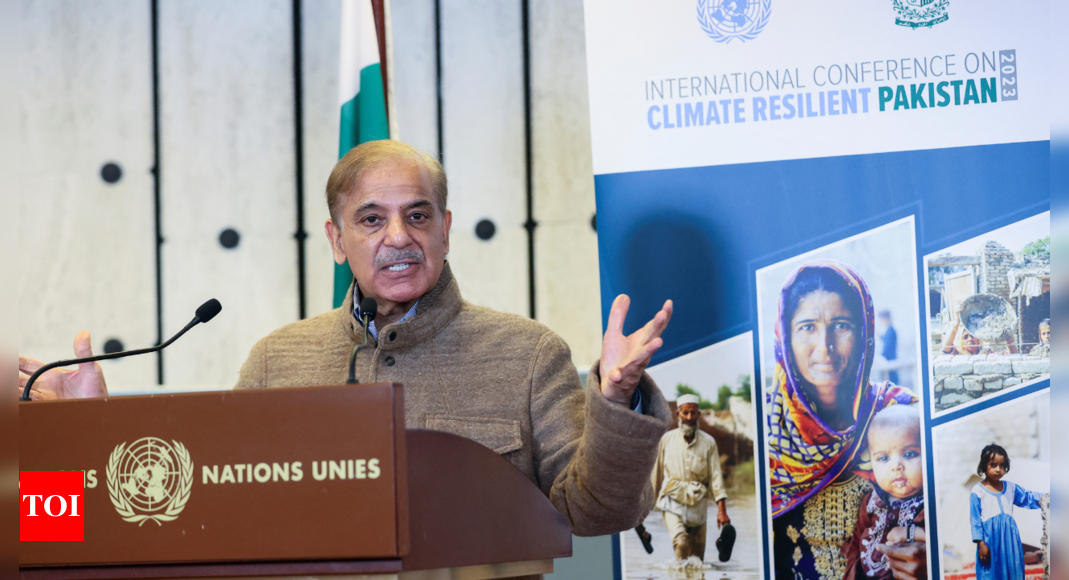 ISLAMABAD/GENEVA: Pakistan said on Monday that the international community has responded generously to its call for support, pledging more than $8 billion to help the poor country rebuild in a climate-resilient manner after last year's devastating floods that killed 1,739 people have killed and affected 33 million people.
Prime Minister Shehbaz Sharif, in his remarks earlier in the day at the opening session of the 'International Conference on Climate Resilient Pakistanin Geneva, which he co-hosted with United Nations Secretary-General Antonio Guterres.
"The first part of the plan reflects recovery and reconstruction, taking into account that the minimum funding of $16.3 billion is needed, half of which will be covered by domestic resources, half by foreign resources," said Sharif.
Pakistan estimated that about $30 billion was needed to recover from the deadly effects of the floods, the worst in three decades.
Information Minister Marriyum Aurangzeb said the conference's first plenary had resulted in a "generous outpouring" from the international community.
"The European Union has pledged $93 million, Germany $88 million, China $100 million, Islamic Development Bank $4.2 billion, World Bank $2 billion, Japan $77 million, Asian Development Bank $1.5 billion, USAID $ 100 million, France $345 million," she said on Twitter. .
She added that a total of $8.75 billion had been pledged so far.
Apparently the amount was more than Pakistan initially needed as it was seeking half of the $16.3 needed for the first three years or the first phase of reconstruction.
The aim of the day-long conference — attended by heads of state and government and other stakeholders — is to raise funds for the rehabilitation and reconstruction of flood-stricken Pakistan in a climate-resilient manner.
Earlier, Fahd Husain, Special Assistant to the Prime Minister for Public Policy and Strategic Communication, quoted the UN chief as saying that about $7.2 billion had been raised at the Geneva conference.
In his remarks, Sharif said Pakistan witnessed a "monsoon on steroids this year" that affected 30 million people, displaced more than eight million people and washed away roads over 8,000 kilometers, but the government reacted quickly and aid from the world community restored the communications system while delivering cash and food to affected families.
"You could go on and on, but to be honest, we are racing against time. We are grateful for the support that is being provided to us by the Asian Development Bank, the UN, the International Monetary Fund and several other international organizations," he said.
He said the government had prepared a comprehensive plan for recovery, rehabilitation, reconstruction and resilience – the 4RF plan.
"This conference today is not just about helping rebuild lives, but in fact it is about the solidarity and vision needed to ensure a future, not just on paper, but in schools and homes ", he said.
For his part, Guterres urged the international community to make "massive investments" to help Pakistan recover from the devastating floods.
"No country deserves to put up with what happened to Pakistan," said the secretary-general, revealing that 9 million people had been pushed to the brink of poverty.
He also praised the people of Pakistan for coming out and helping the people affected by the floods while emphasizing that rebuilding the country in a resilient manner would require $16 billion. However, he added that "much more" would be needed in the long run.
He pledged to stand by the people of Pakistan, which he said were "double victims" of climate catastrophes and "morally bankrupt" global financial systems that "regularly deny middle-income countries the debt relief and concessional relief needed to invest in resilience to natural disasters." "
He called for creative ways for developing countries to access debt relief and concessional financing.
"We need to be honest about the brutal injustice being done to developing countries as a result of climate change," he said.
French President Emmanuel Macron, in his speech via video link, pledged $10 million in aid to Pakistan as he announced that his country would continue to provide expertise and some financial support to Islamabad.
More pledges are expected to be made, but the real test would be turning them into action and into hard cash, which could take months if not years.
German ambassador to Islamabad Alfred Grannas said his country had pledged an additional €89 million for its climate and energy initiative in Pakistan.
"This support is in addition to the already promised €99 million. I am grateful that we can continue our cooperation with the people of the Government of Pakistan to build a #ResilientPakistan!" he tweeted.
Citing a senior development agency official USAID, The Dawn reported that Washington would provide an additional $100 million in funding.
"I am pleased to announce that the United States is making an additional $100 million pledge to Pakistan to help it recover from the devastating 2022 monsoon floods," USAID Deputy Administrator Isobel Coleman told reporters on the sidelines of the conference. in Geneva.
Foreign Minister Bilawal Bhutto Zardari, Finance Minister Ishaq Dar, Planning Minister Ahsan Iqbal, Climate Change Minister Sherry Rehman and Economy Minister Ayaz Sadiq also addressed the conference.
The conference is being held at a time when Pakistan is facing an economic crisis due to the threat of default due to depletion of foreign exchange reserves and rising commodity prices.