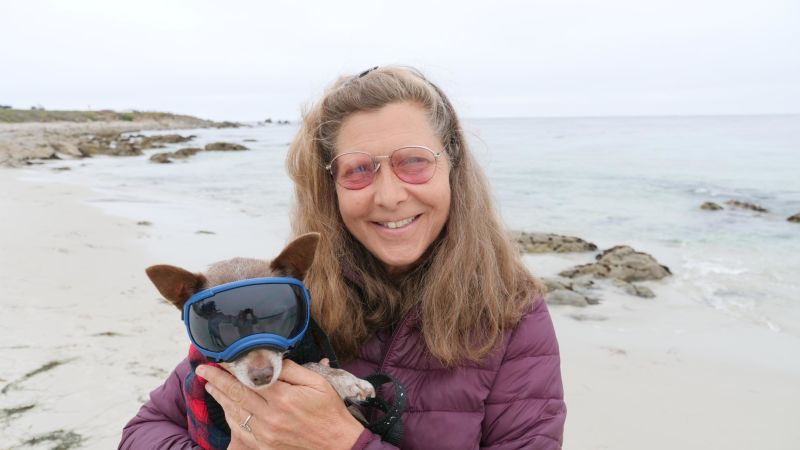 Pacific Grove, California
CNN
—

Owning a dog has been shown to improve seniors' quality of life, increasing their activity and socialization. But what happens when the elderly get older and it becomes more difficult to care for their pet?
Carie Broecker learned about this problem more than a decade ago when she helped care for an elderly woman's dog. Broecker and the woman, Alice, had met five years earlier, when Alice adopted the dog Broecker was tending. After Alice developed emphysema, she contacted Broecker for help.
Broecker took care of the dog, Savannah, while Alice was at medical appointments. When Alice was later transferred to hospice, Broecker would pay the dog a visit. During Alice's final days, her main concern was what would happen to her dog after she passed away.
"I said I promise to make sure Savannah finds a good home," Broecker said. "She was so relieved that I could make her that promise."
After leaving that visit to Alice, Broecker came up with an idea that would become her life's work.
"I remember it clearly," Broecker said. "The whole concept of Peace of Mind Dog Rescue came to mind: the name, and that we would be taking in dogs from dying seniors."
Broecker co-founded the nonprofit with Monica Rua, who also worked in animal rescue and added the idea of ​​rescuing senior dogs from shelters. In 2009, Peace of Mind Dog Rescue was born.
The organization takes in dogs with seniors who can no longer care for them, have been admitted to a nursing home or have died. Often it is family members who contact the organization to donate the dog of their aging relative.
"Often the dog can be your last connection to that person," Broecker said. "You are giving away a part of that person who was so special to you. So it can be very difficult."
Peace of Mind Dog Rescue finds these dogs new homes and checks the dog every year for the rest of their lives.
"We've seen time and time again that dogs can adapt after they lose their person and become part of a new family," Broecker said. "You would like them to be together forever, but if that's not possible, we're very happy to be here to be a safety net."
Usually a senior does not have to give up his dog, he just needs some help. As part of the organization's dog walking program, a volunteer goes to the senior's home to walk their dog for 30 minutes or an hour.
"We can preserve that bond between humans and animals and make this person's life better and more beautiful through our services … it's about honoring the elderly," Broecker said.
The nonprofit also helps senior dogs find forever homes. It can be challenging for overcrowded shelters to give senior dogs the attention they need, so Peace of Mind Dog Rescue is in touch with local animal shelters to see which senior dogs they can attract and help adopt.
After a medical workup, the dogs are placed in foster homes. The organization has more than 160 foster homes available where the dogs have a comfortable place to stay and the adopter can learn how the dog behaves in a home environment.
The dog will then be put up for adoption. Broecker says they let adopters know about medical issues, as many older dogs have some degree of medical needs.
"It amazes us over and over again how someone falls in love with a dumb-looking blind Chihuahua with a sticking out tongue and all sorts of medical problems," Broecker said.
To date, the organization has helped 2,000 seniors and found homes for nearly 3,000 dogs. This work is for Broecker to enable seniors to go through the last phase of their lives with dignity.
"In our society, the elderly, whether they be elderly people or elderly dogs, are sometimes ignored," Broecker said. "We really want to cherish all of life."
CNN's Meg Dunn spoke to Broecker about her work. Below is an edited version of their conversation.
CNN: Your organization recently opened a veterinary clinic. How has that helped your work?
Carie Brooker: About 10 years after running Peace of Mind Dog Rescue we realized we needed our own veterinary clinic. We used to have contracts with about 15 different vets in the area. And they were all great, they gave us a discount, but it was a lot of administrative management of the medical records and it was prohibitively expensive. But now, with our own veterinary clinic, we can save even more and save a lot of time.
We have our own veterinary staff so all dogs get a full exam, heart worm test, senior blood work, urinalysis. Often they need X-rays or ultrasounds for different things, biopsies of all kinds of masses.
CNN: You've also expanded your program to help more than just senior citizens.
Broeker: We have our Helping Paw financial aid program. So low-income pet carers — and many seniors fall into that low-income category — if they need veterinary care and they can't afford it, we have $500 grants a year that people can apply for. And sometimes it's just an ear infection, sometimes we pay because the dog has a broken leg and we contribute $500 to that. But this is how we help keep people and their animals together.
CNN: Why do you think people should adopt an older dog?
Broeker: There are many benefits to adopting an older dog. They are usually calmer and have some sort of training. They usually understand a little bit about how life works, and it's very rewarding for the person. I know it sounds kind of cliche, but I really feel like they're grateful, and they know what they've been through, and there's a sense of relief once they're settled.
When they finally just curl up and lay down and just sigh, you just feel like, "Okay, they just realized they're home."
Do you want to join? Checking out the Peace of Mind Dog Rescue website and see how you can help.
To donate to Peace of Mind Dog Rescue through GoFundMe, click here