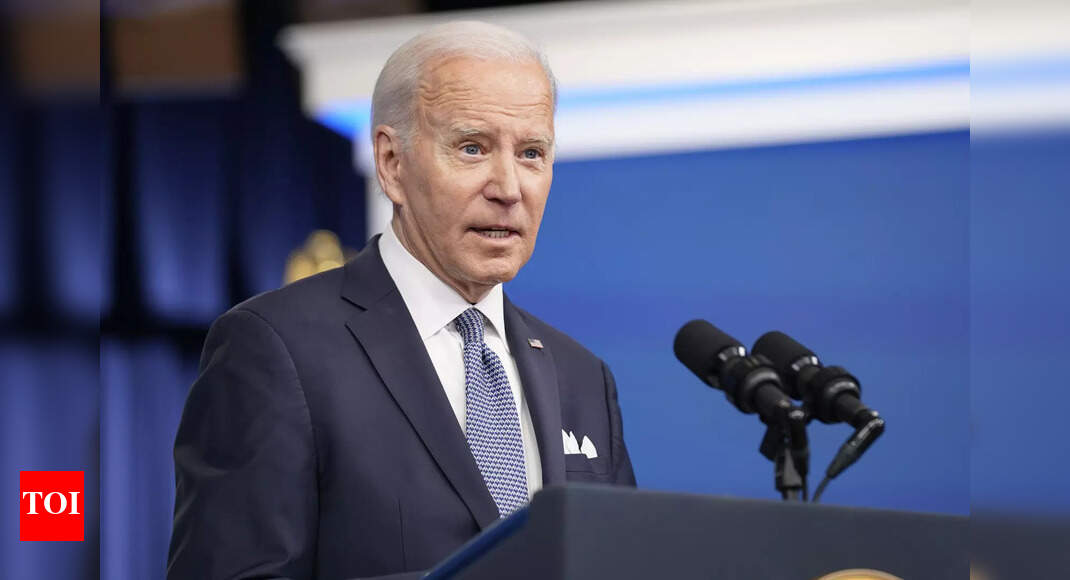 WASHINGTON: The latest discovery of classified material in Joe Biden's home in wilmingtonDelaware, highlights the long-term political and legal risk to the president of a rapidly unfolding investigation that could yield further damaging revelations.
Revelation after revelation this week about sensitive papers at Biden's office and private residence embarrassed and undermined the president, his lawyers and spokespersons, who have claimed they are going by the book. While they have claimed to have taken appropriate precautions, informed the government immediately and arranged for the return of materials, they say they must weigh disclosures to the public against legal considerations.
But the decision to wait more than two months, until after the midterm elections, to disclose the first discovery of classified documents has fueled criticism of the president's commitment to transparency, which has only grown as Biden and his team stumbled the following week.
Statements by the president, his lawyers and his spokespersons that omitted important details — including information later revealed in news reports or subsequent statements — reinforced the impression that the White House has something to hide. And the steady stream of revelations took Republican dysfunction on Capitol Hill out of the headlines and also provided a lifeline for former President Donald Trumpwho is under criminal investigation for his own handling of secret documents.
The president's messaging problems are likely to repeat and intensify as newly appointed special counsel Robert Hur begins investigating the circumstances that led to the discovery of classified documents in Biden's home and a former office. Republicans will certainly seize on any impropriety from Biden or his aides, in an effort to both embarrass the president and protect Trump, who is under investigation for refusing to return a much larger number of classified documents to the administration.
With Trump already in the running, Biden and his aides face a political crisis ahead of the president's expected launch of his 2024 re-election campaign and after recent political victories have silenced doubters in his party.
"Well, it sure is embarrassing, isn't it?" Senator Debbie Stabenow, a Michigan Democrat who is not seeking re-election in 2024, said on NBC's "Meet the Press" on Sunday. "It's one of those moments that they obviously wish hadn't happened."
Trump, Clinton parallels
The White House's best bet is that its cautious and conservative approach will eventually be vindicated. The president's lawyers say they will cooperate fully with the special counsel's investigation, and they expect Biden to be cleared of what they describe as innocent wrongdoing properly handled.
But there is a risk that things will take a turn in unforeseen directions, or that additional revelations will provide Republicans with enough ammunition to launch a consistent political attack. Past special counsel investigations — including the investigation into ties between Trump's campaign and Russia — have often overtaken a presidency. In 2016, former Secretary of State Hillary Clinton's use of a private email server — a controversy that Democrats now mock with the phrase "but her emails" — may have cost her the presidency.
In the coming months, the president and his aides will inevitably face tough questions as new information about the documents and their handling is revealed. Political pressure to provide a more comprehensive statement will mount, even as Biden's lawyers resist releasing details that could complicate the special counsel's investigation.
The key for the White House is avoiding an appearance like this week, when the president's lawyers and spokespersons appeared to be violating the cardinal rule of crisis communications: admit the full extent of a problem as quickly as possible.
Republican lawmakers have already seized on Biden's lawyers' first questionable decision: not to disclose the existence of the first-party classified materials closer to the time they were discovered in November, just before the midterm elections.
Incomplete search
Biden and the White House only acknowledged the documents found this week at the Penn Biden Center for Global Diplomacy and Engagement in Washington, after their existence was reported by CBS News. But the president and his lawyers then made another fateful decision and chose not to publicly disclose that a second batch of classified material had been discovered in the garage of his Wilmington home in December.
The existence of those documents — which had already been returned to the federal government — was reported by NBC News on Wednesday. Biden's legal team remained silent until the next day, when they issued a statement acknowledging the garage papers, as well as an additional secret document "consisting of one page" found "among stored materials in an adjoining room."
The statement also said that the president's attorneys had "completed" their search of Biden's homes in Wilmington and Rehoboth Beach, Delaware, Wednesday night.
White House press secretary Karine Jean-Pierre stressed to reporters that the search was over. "You have to assume it's done," she said at a briefing on Thursday.
That was not the case.
Because Biden's personal attorneys lacked security clearances, they even halted their review Wednesday when they discovered the secret page in Biden's Wilmington home. White House special counsel Richard Sauber — who has a security clearance — then traveled to Wilmington the following evening to turn the document over to Justice Department officials, he said in a statement Saturday. In the process, he discovered five additional pages of classified material.
"The secrecy of the Biden White House on this matter is alarming," House Oversight Committee chairman James Comer, a Republican from Kentucky, said in a statement Saturday. "Equally alarming is the fact that Biden aides sifted through documents knowing that special counsel would be appointed."
The White House has not responded to questions about the apparent discrepancy between their statements. But Bob Bauer, the president's private attorney, said Biden's team had tried to avoid publicly identifying specific witnesses, documents or events that could complicate the special counsel's investigation.
"The president's personal attorneys have attempted to balance the importance of public transparency where appropriate with established standards and limitations necessary to protect the integrity of the investigation," Bauer said in a statement Saturday. "These considerations require that public disclosure of details relevant to the investigation be avoided while it is ongoing."