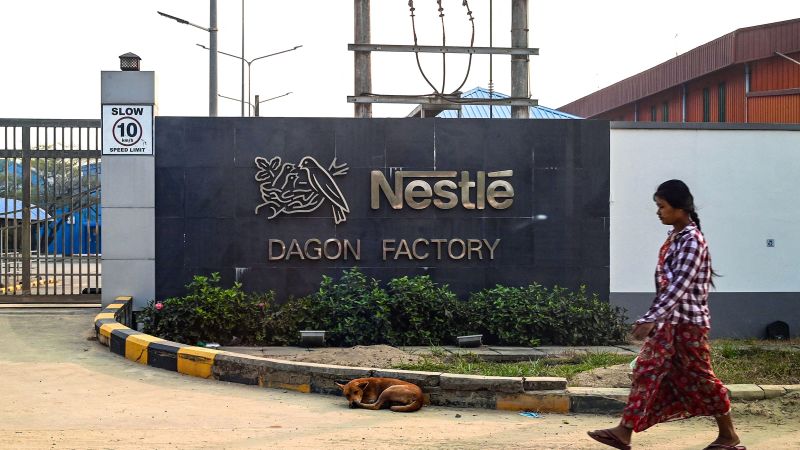 CNN
—

Nestlé has announced it will close its only factory and headquarters in Yangon, Myanmar's largest city, as it shifts to a more "sustainable" business model amid ongoing unrest in the country.
Myanmar has been rocked by violence and instability since 2021, when a military coup overthrew democratically elected leader Aung San Suu Kyi and her government. Thousands of people have been killed across the country since the coup began.
The economy has collapsed, with severe shortages of food, fuel and other basic necessities.
"We will do everything we can to support everyone affected by this decision," a Nestlé spokesperson said in a statement to CNN on Tuesday. "Consumers will still enjoy the same Nestlé brands imported from Thailand, Malaysia and the Philippines."
Since the coup began, a number of foreign companies have left Myanmar, including oil giants TotalEnergies and Chevron and Norwegian telecoms operator Telenor.
Total (TOT) began operating the offshore Yadana gas field in Myanmar in 1992 and was the project's largest shareholder. About 70% of the gas was exported to Thailand. Chevron (CVX) had a smaller stake in Yadana.
Both companies announced their withdrawal in January 2022 due to the deteriorating situation in the country
Japanese beer maker Kirin cut ties with its local brewing partner and left Myanmar days after the junta seized power.
"Nestlé began distributing our products in Myanmar in 1991 and expanded our presence in the country," said the spokesperson. "We have been looking at how we can make Nestlé Myanmar's activities more sustainable for some time now [and] recently conducted an evaluation of the best approach to do so."
"The review concluded that moving to a distributor model makes the most sense in the current economic situation," the person added, reiterating that the company is not closing its operations in Myanmar.
The Swiss conglomerate is the world's largest food and beverage company, making products such as Nescafé coffee, KitKat chocolate bars and the popular chocolate malt drink Milo.
It recently announced price increases amid global inflationary pressures that have affected food and commodity prices.