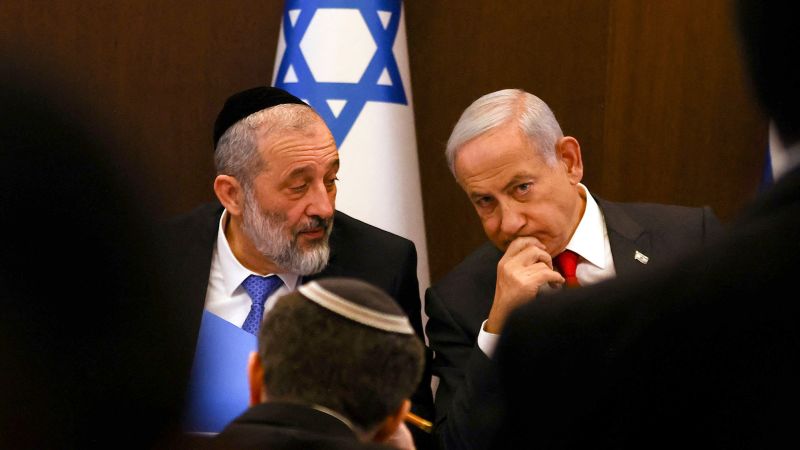 Jerusalem
CNN
—

Israeli Prime Minister Benjamin Netanyahu fired key ally Aryeh Deri from all ministerial posts on Sunday, in line with an Israeli Supreme Court ruling that it was unreasonable to appoint the Shas party leader to positions in the government.
The court had said that Deri's appointment "cannot stand" because of his criminal convictions and because he had said in court last year before being convicted of tax fraud that he would retire from public life.
Netanyahu told Deri he made the move "with a heavy heart, with great sadness," according to a statement from the prime minister's office.
Deri's resignation came the day after more than 100,000 people protested in central Tel Aviv against Netanyahu's government and planned judicial reforms, according to police estimates in Israeli media. Thousands more protested in Jerusalem and other Israeli cities, police said.
This is the third week that opponents of Netanyahu's government have taken to the streets to protest, but the biggest turnout to date.
Yariv Levin, Netanyahu's justice minister, announced earlier this month a series of reforms to the judiciary that would allow parliament to overturn decisions by the high courts and give politicians more power in appointing judges. On Wednesday, the Supreme Court ruled that Netanyahu must fire Deri, who was previously convicted of criminal charges, including tax offences. Deri was serving a suspended sentence and said he would be leaving public office.
Deri's Shas party — which in November won 11 seats in Israel's 120-seat parliament, the Knesset, and is a key part of Netanyahu's coalition — immediately hit back, calling the court's decision "arbitrary and unprecedented."
The Sephardic religious party said the court "threw out today the votes and votes of 400,000 voters from the Shas movement."
"Today the court actually ruled that the elections are pointless. The decision of the court is political and contaminated," the party said.
The Supreme Court had been asked to rule on whether it was legally reasonable to appoint Deri to posts in Netanyahu's cabinet despite his conviction for tax fraud. Judges ruled that his appointment "cannot stand".
"This is partly due to his backlog in criminal convictions," and the fact that he has not withdrawn from public life, as he said he would if convicted in the tax fraud case.
Opposition leaders, including former Prime Minister Yair Lapid and former Defense Minister Benny Gantz, attended the protest in Tel Aviv on Saturday.
"What you see here today is a demonstration in favor of the state. People who love the land came to defend democracy, the courts, the idea of ​​a common life and a common good," Lapid tweeted. "There are Israel enthusiasts here who came to demonstrate for a democratic Jewish state according to the values ​​of the Declaration of Independence. We will not give up until we win."