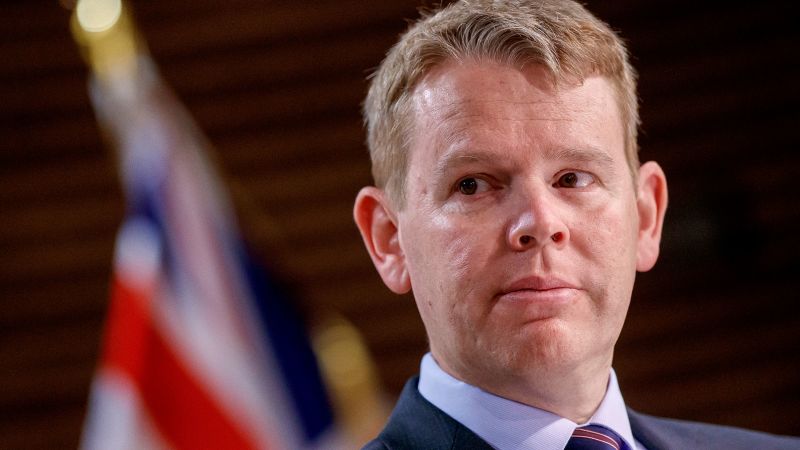 CNN
—

Chris Hipkins, New Zealand's education minister, is making a bid to succeed Jacinda Ardern as prime minister following her shock announcement of her resignation earlier this week.
Hipkins emerged as the only candidate nominated for leadership of the ruling Labor Party on Saturday morning.
The Labor Party caucus will meet on Sunday to formally endorse and confirm Hipkins as leader, party whip Duncan Webb said.
New Zealand's next general election is expected to take place on October 14.
Hipkins is a career politician who entered parliament in 2008 and became a household name leading New Zealand's pandemic management as Covid-19 response minister in Ardern's cabinet. In addition to being minister of education, he is also minister of police and public service and leader of the Chamber.
Speaking to reporters after nominations closed at 9am local time in the capital Wellington, he said he aims to build consensus on who "can best lead the Labor Party, and thus New Zealand, forward".
"I am absolutely humbled and honored," he said, adding, "there is still a little way to go in this process. There is another meeting and a vote tomorrow, and I don't want to get too far ahead of that."
The minister then thanked his party members and said: "We have gone through this process with unity and we will continue to do so."
He pledged to lead the country in a "strong, stable and united" manner, but warned that challenges lie ahead.
"I recognize that we are going through some economic turbulence right now and we need to navigate through that," he said.
Hipkins also told reporters that he is "incredibly optimistic about New Zealand's future" and "very much looking forward to the job. I feel energized and excited."
He served as Covid-19 response minister for nearly two years in a country that kept infection and death rates relatively low after border closures. He also oversaw New Zealand's phased reopening before fully welcoming all international travel back last July.
Ardern said Thursday she would stand aside for a new leader, saying she doesn't believe she has the energy to seek re-election.
Speaking at a press conference, Ardern said her term would end on February 7, when she expected a new Labor prime minister to be sworn in – although "depending on the process that could be sooner.
Hipkins said Ardern — whose tenure coincided with a terrorist attack, natural disasters and a global pandemic — was "the leader we needed when we needed him."
And he acknowledged that, like Ardern, he would open himself up to "a lot of scrutiny and a lot of scrutiny" by putting his name forward.
"I go into this job with my eyes wide open, knowing what I got that I stepped into," said Hipkins.