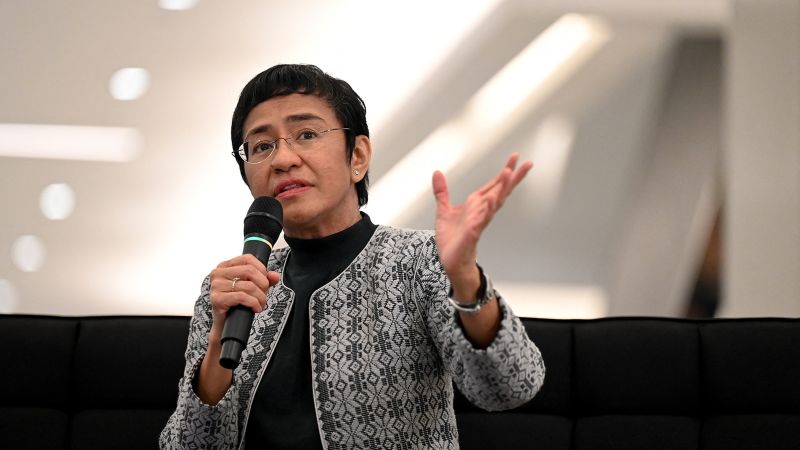 CNN
—

A Philippine court on Wednesday acquitted Nobel laureate Maria Ressa of tax evasion.
Ressa, CEO and founder of news site Rappler and a former CNN bureau chief, was acquitted of four tax violation charges filed in 2018 by the administration of former President Rodrigo Duterte, a Court of Tax Appeals official confirmed to CNN .
"Today the facts win, the truth wins and justice wins," Ressa, who pleaded not guilty to all charges, said outside court in Manila on Wednesday.
"These allegations were politically motivated," she added, calling them "brutal abuses of power and designed to deter journalists from doing their jobs."
Ressa won the 2021 Nobel Peace Prize, along with Russian journalist Dmitry Muratov, for her efforts to ensure freedom of expression in the Philippines. She founded Rappler in 2012 and rose to prominence for her staunch coverage of Duterte and his relentless "war on drugs."
She has been embroiled in legal battles in recent years and previously claimed she was targeted because of her news site's critical posts about Duterte.
And her legal battle isn't over yet.
She still has one outstanding tax case against her and has also filed an appeal with the Philippine Supreme Court in an effort to overturn her 2020 cyber libel conviction.
Meanwhile, Rappler is still fighting a 2018 government order to close after the Philippine Securities and Exchange Commission (PSEC) upheld its previous ruling last June to revoke the news site's operating license.
Hold The Line, an advocacy group set up to support Ressa, welcomed the verdicts on Wednesday and called for all pending cases against her to be closed.
"Rappler and Ressa have maintained their innocence and will continue to defend press freedom in the Philippines as they fight a barrage of pending cases designed to silence their reporting," the group said in a statement.
"We hope we see the beginnings of an end to the previous administration's strategy of instrumenting the courts as a means of undermining independent news organizations and damaging the credibility of journalists.
This is a breaking story. More to come …