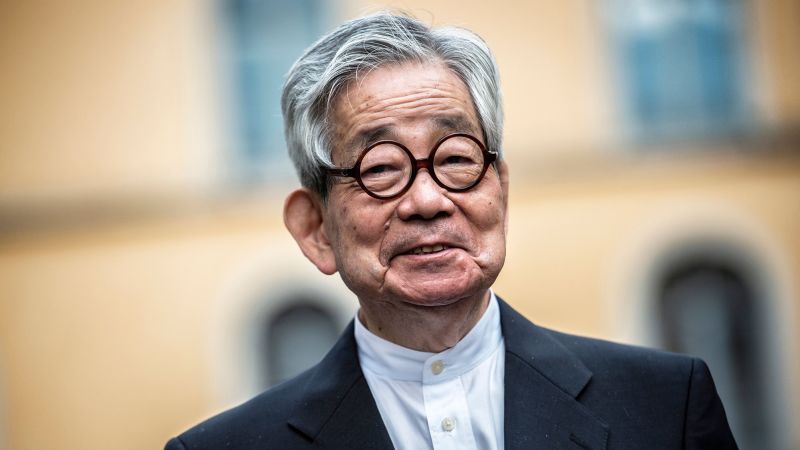 Hong Kong/Tokyo
CNN
—

Japanese Nobel laureate Kenzaburo Oe, a writer known for his strong pacifist stance that permeated much of his work, has died of "old age," his publisher confirmed Monday.
The publisher, Kodansha, said the 88-year-old had died ten days earlier on March 3.
The Nobel Prize website described Kenzaburo Oe as someone "who creates with poetic power an imaginary world, where life and myth merge to form a disturbing picture of the current human situation".
Born in 1935 in western Ehime Prefecture, Oe made his debut as a writer in 1957 and won his Nobel Prize in Literature nearly four decades later.
He received the award in 1994, becoming the second from his country to claim the title after writer Kawabata Yasunari's victory in 1968.
Oe's writing is heavily influenced by his childhood memory, growing up around the time Japan was defeated in World War II.
He wrote about the plight of the Hiroshima atomic bomb and in recent years had taken part in demonstrations against former Prime Minister Shinzo Abe's efforts to revise Japan's pacifist constitution.
"By exercising collective self-defense, Japan will directly participate in a war," Oe said at a meeting in 2014.
"I fear that the spirit of Japan is approaching the most dangerous stage in the last 100 years," he added.
Abe, who was killed last year, had long argued that Japan needed a more assertive approach to defense, especially given China's historic rise in recent decades.
Oe's other source of inspiration was his brain-damaged son, Hikari, who was unable to communicate for years as a child.
The writer, who was married to Yukari, the sister of the late film director Juzo Itami, saw it as his mission to give his eldest son a voice through his writing.
Young Oe studied French literature as a graduate student at the University of Tokyo. He started publishing stories while in college and won the Akutagawa Prize which launched his career, paving the way for his fame in the literary scene.
After his Nobel Prize, he was subsequently awarded Japan's Order of Culture, awarded to the country's top artists, writers and scientists for their outstanding contributions.
But Oe refused to accept it at the time because it was granted by the emperor.
"I do not recognize any authority, any value, higher than democracy," he said.
He also advocated for Japan to abandon nuclear energy after the 2011 Fukushima nuclear accident.
Reuters contributed to this report.