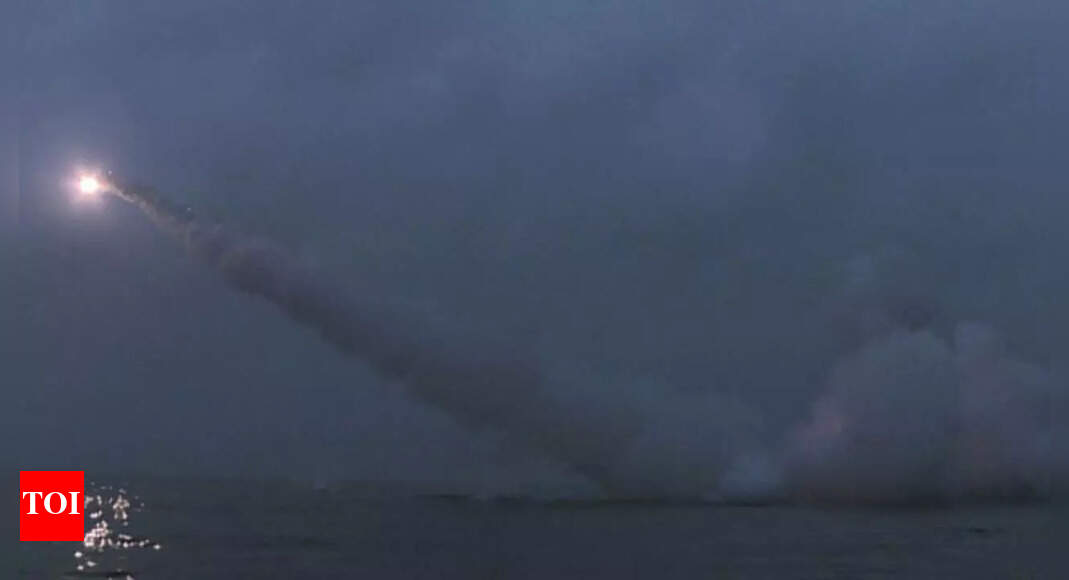 SEOUL: North Korea said Monday it has conducted tests of submarine-launched cruise missiles, days after leader Kim Jong-un ordered his troops to stand ready to repel rivals' "frantic war-preparation efforts."
Sunday's test came a day before the US and South Korean militaries began large-scale joint military exercises that North Korea views as rehearsal for an invasion.
North Korea's official news outlet, the Korean Central News Agency, said Monday that the missile launches demonstrate the North's determination to respond with "overwhelmingly powerful forces" to increasing military maneuvers by "the US imperialists and South Korean puppet forces".
KCNA also suggested that the North is aiming to arm the cruise missiles tested with nuclear warheads.
It said the missiles flew for more than two hours, drawing figure-eight patterns in waters off the country's east coast, and hitting targets 1,500 kilometers (930 mi) away. The missiles were fired from the 8.24 Yongung ship, KCNA said, referring to a submarine North Korea has used since 2016 to conduct all of its known submarine-launched ballistic missile tests.
Sunday's actions were the first missile tests launched in the North since the country tested a weapon from a silo under an inland reservoir in October last year. Last May, the country launched a test launch of a short-range ballistic missile from the same ship.
North Korea's command of submarine-launched missile systems would make it more difficult for adversaries to detect launches in advance and provide the North with retaliatory strikes. Experts say it would take years, extensive resources and major technological improvements for the heavily sanctioned nation to build several submarines that could travel silently in seas and reliably launch strikes.
After a record number of missile tests last year, North Korea has launched several additional missiles since January 1. Ahead of Sunday's launch, the country also test-fired an intercontinental ballistic missile that could potentially reach the US mainland; short-range nuclear-capable missiles designed to hit South Korea; and other weapons.
Experts say Kim, who sees his nuclear arsenal as his best security guarantor, is trying to pressure the United States to accept the North as a legitimate nuclear power and to ease international economic sanctions.
Earlier on Monday, the South Korean military said it had detected a submarine launch in waters near the eastern port city of Sinpo in the north on Sunday. Sinpo has a large shipyard for building submarines.
South Korea's joint chiefs of staff said South Korean and US intelligence agencies were analyzing details of the operation.
North Korea sees regular military exercises between South Korea and the US as a major security threat, though the Allies say their exercises are defensive. Some observers say North Korea is using its rivals' exercises as a pretext to test weapons and modernize its nuclear arsenal to gain the upper hand in relations with the United States.
Last Thursday, Kim oversaw a live-fire artillery exercise simulating attacks on a South Korean airfield. He ordered his army to maintain the ability to "react overwhelmingly" to enemy action, according to KCNA.
The news agency reported on Sunday that Kim also convened an important meeting on military affairs to take unspecified steps to "make more effective, vigorous and offensive use of the war deterrent" in the face of US and South Korean maneuvers.
South Korean-American exercises will run until March 23. They include a computer simulation called the Freedom Shield 23 and several combined field training exercises collectively known as the Warrior Shield FTX.
The computer simulation is designed to bolster the Allies' defense and response capabilities amid North Korea's rising nuclear threats and other evolving security environments, according to the South Korean and US militaries.
The Allies' last major field training, dubbed Foal Eagle, took place in 2018, the military said.
In recent years, the US and South Korea have canceled or scaled back some exercises to pursue diplomatic efforts to denuclearize North Korea and express concern over the COVID-19 pandemic. The two countries expanded the exercises again after North Korea conducted a record number of missile tests in 2022 and adopted an increasingly aggressive nuclear doctrine.
In recent weeks, the US has been flying powerful long-range bombers for joint air exercises with South Korean fighter jets. South Korea's defense ministry said the deployment demonstrates the US's commitment to using a full range of military capabilities, including nuclear, to defend its Asian ally in the event of an outright conflict with North Korea. Korea.