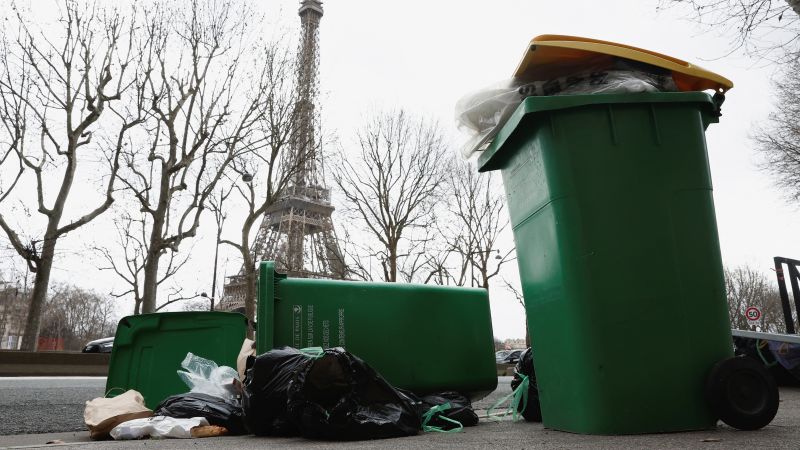 Paris
CNN
—

The City of Light has a waste problem.
Mass strikes in Paris against pension reforms this week are affecting rubbish collection services in the French capital, with piles of rubbish lining many of the city's normally picturesque streets, including those a stone's throw from landmarks such as the Eiffel Tower and Arc de Triomphe.
On Saturday, about 4,400 tons of trash awaited collection, a spokeswoman for the Paris mayor's office said. The spokeswoman said the problem is a blockage at waste incinerators as a result of the strikes. So garbage trucks have been unable to pick up trash in much of the city because they have nowhere to put it.
Not all neighborhoods have been hit equally hard. The municipal government is responsible for waste collection in half of Paris' 20 arrondissements. Private contractors are responsible for the remaining 10.
Municipal services such as garbage collection in Paris have been hit since Tuesday, when strikes caused flights and trains to be canceled and delayed; oil refineries blocked; schools closed; and left thousands without electricity. The French capital was hardest hit, with nearly 60% of primary school teachers walking out and the local metro forced to shut down service except at the busiest times.
Mass protests have been held regularly across France since January 19, with more than a million people coming out in droves to voice their opposition to the government's plan to raise the official retirement age for most workers as part of reforms to the health system. government pension scheme, one of Europe's most generous.
The government of President Emmanuel Macron says the changes are necessary to make the system financially stable.
The accumulation of rubbish in Paris has led to health problems among Parisians and local politicians. The mayor of the 17th arrondissement, Geoffroy Boulard, said in an interview with CNN affiliate BFMTV that he has asked Paris mayor Anne Hidalgo to hire a private service provider to intervene.
"We can't wait," he said. "This is a public health issue."
Boulard said he is also concerned about the proliferation of rats and rodents and the image of Paris.
Another local mayor, Jean-Pierre Lecoq of the 6th arrondissement, asked Hidalgo to intervene in an open letter he posted on Twitter.