Volker Türk, deputy secretary general for policy, outlined the "multiple, mounting risks" piling up — from the Russian invasion of Ukraine to climate change, to the threats posed by emerging technologies.
"The number of violent conflicts is at its highest level since 1945 with dire human consequences, seen in record levels of forced displacement and global humanitarian needs.
"Peacebuilding is the responsibility of the entire UN system – as recognized in the landmark 2015 resolutions on peacebuilding architecture," he told participants.
'Unique approach'
"Our unique approach aims to build a foundation for peaceful societies by addressing the root causes and causes of conflict."
The policy chief pointed to examples in the Central African Republic, where the Secretary-General's Peacebuilding Fund is supporting the implementation of the 2019 Political Agreement for Peace and Reconciliation through enhanced efforts to prevent violence in Bambari, in collaboration with multiple UN and civil society organizations .
In the troubled and sprawling Kasai region of the Democratic Republic of Congo, where the UN peacekeeping mission MONUSCO is coming to an end, the Fund has supported efforts to reintegrate nearly 500 ex-combatants.
Since 2018, the Secretary-General's reports have presented many and different options to increase, restructure and better prioritize funding for UN peacebuilding activities, and "some progress has been made," he stressed.
Voluntary contributions to the Fund have increased, allowing it to invest $195 million in 2021.
Investment 'insufficient' so far
"But progress is not enough," he warned.
The allocation targets have been lowered over the past three years due to a lack of funding, and the UN is significantly short of the "quantum leap" needed, to $500 million a year.
"The Fund also remains completely dependent on voluntary contributions from a small number of donors. By contrast, prevention and peacebuilding needs continue to grow. Demand for support consistently exceeds resources."
Funding, he added, is a "critical factor" in the pursuit of more effective peacebuilding, "and the money is there."
Figures released earlier this week showed global military spending hit an all-time high last year, crossing $2 trillion for the first time.
Weapons in plowshares
"Countries that can afford record investments in weapons can afford to invest more in conflict prevention and resolution and peace building," said Mr Türk.
The costs of conflict are unsustainable, he added, calling for new investment, as outlined in the report presented to the high-level meeting. Today, he said, was "an opportunity to get serious about the vital, focused work of peacebuilding".
'Woeful' underfunding: Shahid
General Assembly Speaker Abdullah Shahid noted that only a small fraction of global resources spent on security and development were invested in peacebuilding.
"It remains woefully underfunded and under-resourced. To be clear, the goal of investing $500 million a year in the Peacebuilding Fund has not yet been reached.
"This financial divide weakens peacebuilding; funding is too unpredictable and inadequate for long-term programs… Not only is this counterproductive to our intentions, it's fiscally shortsighted. Investing in peacebuilding could ultimately result in net savings of $5 to $70 billion," he said.
He encouraged all member states to come up with solutions and make commitments, close the financial gap to prevent conflict and build the institutions necessary for long-term peace.
"I would like to remind Member States that peacebuilding is first and foremost a national challenge and responsibility," he said. "National ownership is essential for success and sustainability. In that regard, national capacity development should be at the heart of all international peacebuilding efforts, including in the allocation of peacebuilding funding.
"Let's show greater political will to ensure adequate, sustainable and predictable funding for peacebuilding and lasting peace."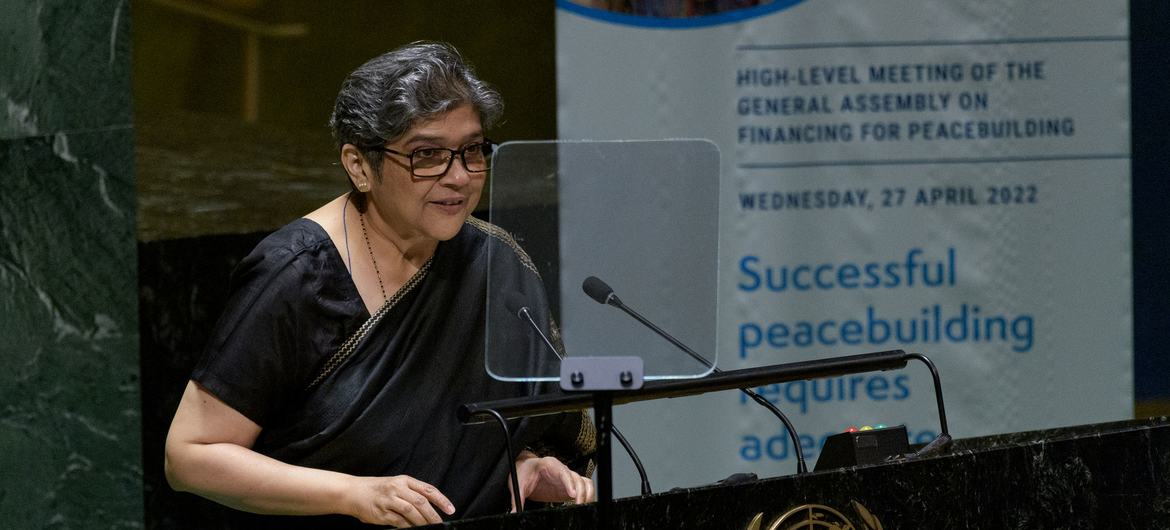 'Critical Challenge'
The chairman of the UN's intergovernmental advisory body, the Peacebuilding Commission, Rabab Fatima, said the body chosen by the General Assembly to assist conflict-affected countries recognizes that "adequate, predictable and sustainable financing remains a critical challenge" .
The chairman, who is also Bangladesh's ambassador to the UN, said the PBC was concerned that financial flows to conflict-affected countries "are under severe pressure", especially in terms of ODA for peacebuilding.
"The challenge is especially acute for countries in transition," she said, amid COVID-19 and government spending constraints.
"Given the socio-economic impact of the pandemic, in particular for conflict-affected countries, the Commission reiterates the need to ensure that recovery and sustainable development efforts are conflict-sensitive and promote peace-building, including through increased focus on prevention and reducing inequalities."
She called for more work in support of the Women's, Peace and Security, Youth, Peace and Security Agenda, and stressed the importance of "proper funding for peacebuilding", including stronger partnerships with regional and sub-regional organisations. , together with international financial institutions.