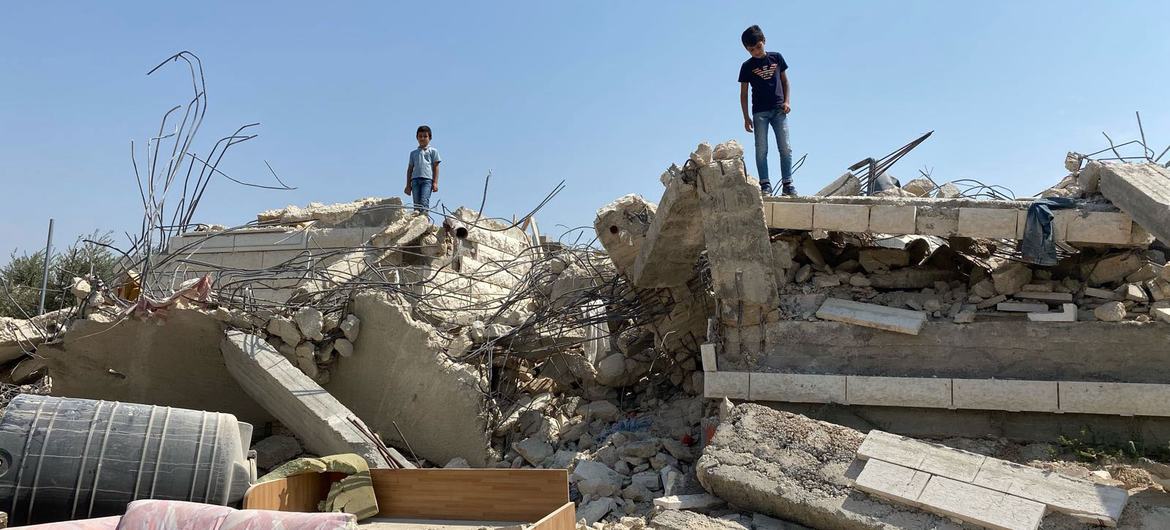 "I urge decision-makers and people on all sides to act on the recommendations of our reports and to step back from the abyss to which rising extremism and violence have led," said Volker Türk, the UN High Commissioner for Human Rights (OHCHR), after presenting the Council with its latest annual report on the situation.
"To stop this violence, the occupation must end," he said. "There are people on all sides who know this."
During the reporting period, between November 1, 2021 and October 31, 2022, he said that the escalating violence growing numbers of dead and injured. Indeed, 2022 saw both the highest number of Palestinians killed by Israeli security forces in the past 17 years, and the highest number of Israelis killed since 2016.
Rising death toll
This death toll has deteriorated further and sharply in the first weeks of 2023 and just last month, he warned.
The report found that 13 Israelis were killed by Palestinians during the reporting period, nine others – including three children – and a foreigner, who have since been killed in two attacks.
Deadly power
During the reporting period, Israeli security forces often used lethal force, regardless of the threat level, sometimes even as a first measure rather than a last resort, he said, also reporting instances of extrajudicial, targeted killings.
Outside the context of hostilities, 131 Palestinians were killed by Israeli security forces personnel over the past year, including 65 people who were not armed or involved in attacks or clashes, he said.
Chronic impunity
Since 2017, less than 15 percent of such murders have been investigated and less than one percent led to an indictment, he noted.
The report addressed impunity for unlawful killings, use of force, torture, and mistreatment by the Palestinian security forces, who also face impunity from Gaza's de facto authorities, the militant group Hamas.
Updates were also discussed in the report collective punishmentsprohibited by international law, the detention of Palestinians and the spread of Israeli settlements in Palestinian territory.
advancing settlers
"More than 270 Israeli settlements invade and fragment Palestine," he said. Furthermore, the partition wall divides thousands of Palestinians, poses a major obstacle to their freedom of movement and imposes "a suffocating straitjacket on their lives".
Get on tensions and violence are a serious problem, he said. On Sunday, two Israeli brothers, aged 19 and 21, were killed by a Palestinian in the West Bank town of Huwwara.
Hours later, hundreds of Israeli settlers revolted throughout the area, burning or damaging Palestinian homes, shops and dozens of vehicles. The frenzy is gone one person dead and 390 others injuredhe told the Council.
Effects of occupation
"More than half a century of occupation has led to increasing expropriation, increasing deprivation and recurring and serious violations of rights of the Palestinian people, including the right to life," he said. "No one would want to live this way or imagine that forcing people into such desperation could lead to a lasting solution."
The people of Israel are also suffering from this situation, he said. "They have the right to live in peace in their state, just as the Palestinians have, in a state that is finally recognized and viable."
The occupation is "eating away at the health of both societies", on every level, from childhood to old age, and in every part of life, he said.
Find an 'exit'
Recommendations from the human rights system that would make an immediate difference include treating incidents of violence equally, ending the blockade of Gaza and easing restrictions, he said.
In addition, all sides must adhere all the way to the agreement reached at the top Aqaba on Feb. 26 and build on this experience in opening up the problems to regional solutions, to solve other problems in the future, he continued.
Such steps wouldimprove people's liveslet them breathe, and pull young people – indeed, people of every age and political opinion – away from further violence and extremism and the illusion that this is a solution," he said.
Meanwhile he said Member States should play a part in"assist all parties in finding the exit".
"There in the foreseeable future must be a two-state solutionwith an end to the occupation and mutual recognition of the legitimate rights of all Israelis and Palestinians to live in dignity, peace and security," he said.