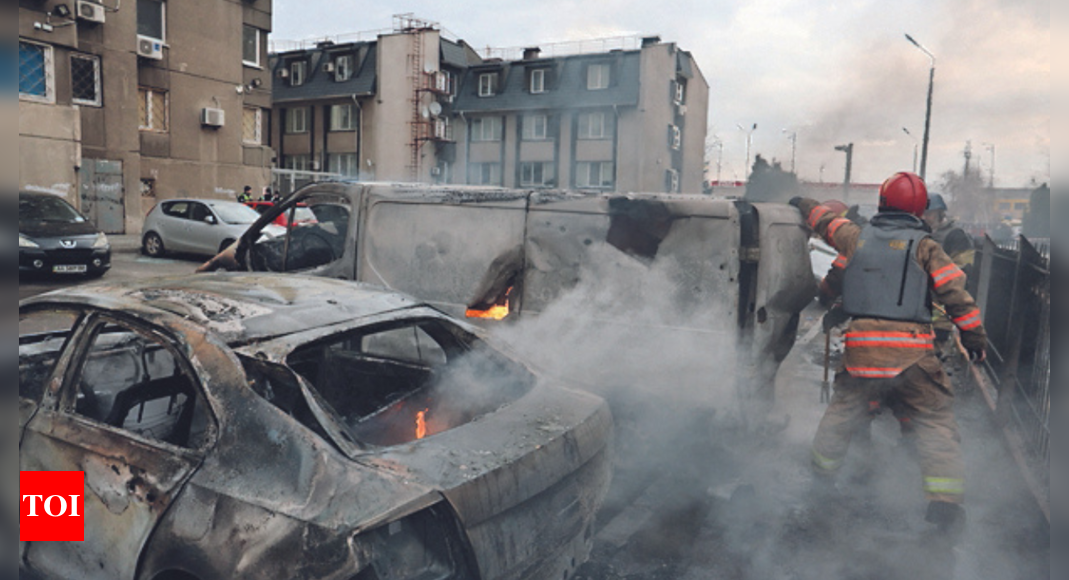 KYIV: Russia launched its largest airstrike in weeks on Thursday, hitting targets across Ukraine with a complicated barrage of weapons, including the latest hypersonic missiles. region of Russia. The strikes, which ended weeks of relative calm in Kiev and other cities, killed at least nine people across the country, knocked out power in several areas and damaged three power stations, Ukrainian officials said.
The attacks included six of the new hypersonic missiles known as Kinzhals or Daggers, the most Russia has used in a single wave since the start of the war a year ago, according to the Ukrainian Air Force. Of the 81 missiles fired at night and in the morning, 47 hit targets, Ukraine said. That's a much higher ratio of strikes to missiles fired than Russia has achieved in recent months in barrage.
Russia fired 48 air-launched missiles of various types, including the most advanced missiles called Kinzhals – which fly many times faster than the speed of sound and are built to carry nuclear warheads with a range of more than 2,000 km. The Ukrainian army says it has no air defense system capable of shooting down the Kinzhals. It is believed that Russia has only a few dozen kinzhals, which President Vladimir Putin regularly touts as a weapon to which NATO has no answer.
Twenty Kalibr cruise missiles were fired from the Black Sea and the Sea of ​​Azov. Russia sometimes sends these missiles to follow the looped paths of Ukraine's major rivers, allowing them to fly low and avoid terrain. Russia also launched a barrage of 13 older S-300 missiles, anti-aircraft missiles that Russia has repurposed to hit ground targets as other types are running low, and eight Shahed exploding drones.
Five people were killed at home when a rocket came down in a residential area in the western region of Lviv, bordering Poland, and one person died in the Dnipropetrovsk region of central Ukraine, local officials said. In the north, in the Kharkiv region near the border with Russia, 15 missiles hit infrastructure and a residential building, the head of the region's military administration said on Telegram. Three people were also killed in Russian shelling in the southern city of Kherson, officials said. In the capital Kyiv, two large explosions an hour apart injured at least two residents and sent a plume of black smoke billowing from the center of the city, rattling windows and engulfing cars in flames. At least one hypersonic missile appeared to have hit the capital, a Kiev official said.
The head of the UN nuclear agency made an impassioned plea after strikes temporarily cut off Russian-held territories. Zaporizhia nuclear power plant in Ukraine from external power lines and forced it to switch to diesel generators. According to Rafael Mariano Grossi, it was the sixth time since the invasion that the facility in Zaporizhzhia had to move to its emergency power supply. "If we allow this over and over again, our luck will one day run out," he said, referring to the possibility of a nuclear accident. Later in the day, the nuclear power plant was reconnected to the grid, the national electricity company Ukrenergo said in an update on Telegram.
"The occupiers can only terrorize civilians. That's all they can do. But it won't help them. They won't shirk responsibility for everything they've done," the Ukrainian president said. Volodymyr Zelensky said in a statement, detailing strikes that affected 10 regions. In the capital Kyiv, the seven-hour nighttime alert was the longest of Russia's five-month air campaign.