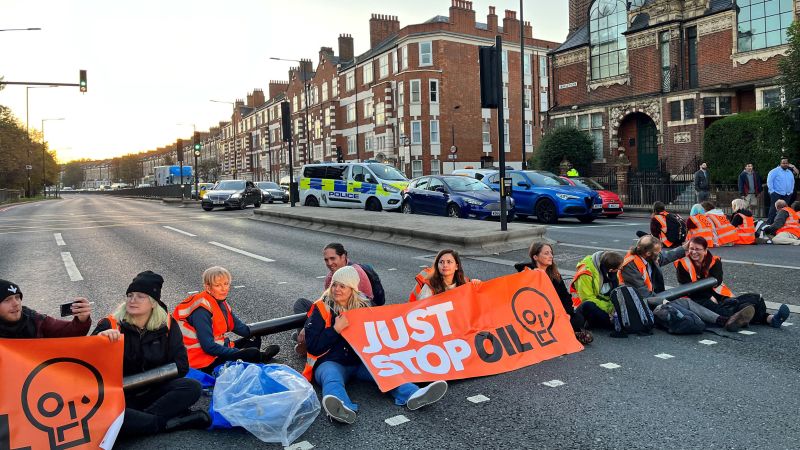 London
CNN
—

The British government wants to give the police new powers that will allow officers to take stronger action against people who protest peacefully, politically.
Human rights activists have accused the government of trying to suppress freedom of expression, while opposition politicians claim Downing Street is just trying to distract from the myriad things currently going wrong in the UK.
The government issued a statement on Sunday evening saying it would table amendments to legislation already being passed by parliament, the so-called public order law. This has already been the subject of enormous controversy due to the extent to which the protest is slowing down.
In particular, the bill nakedly targets groups like Black Lives Matter, Extinction Rebellion and Just Stop Oil, all of which have used disruptive tactics in their anti-government protests.
The bill would criminalize longstanding protest tactics, such as locking on (where protesters physically attach themselves to things like buildings) and tunneling (literally digging tunnels), and could force people who regularly protest to wear electronic tags. The new amendment would also give the police the power to stop protests before any disturbance even occurs.
British Prime Minister Rishi Sunak said: "We cannot allow protests by a small minority to disrupt the lives of the general public. It is unacceptable and we are going to end it."
The head of London's Metropolitan Police Service, Mark Rowley, also issued a statement, making it clear that the police had not asked the government for more powers to curb protests.
Adam Wagner, a leading human rights lawyer, thinks this may be due to the fact that there is really little to gain for the police.
"The police already have to decide which protests to join and which to leave alone. Whatever they do, they will be criticized and ideally they would probably prefer to have less to deal with police protests and the bad publicity that comes with it," Wagner told CNN.
Critics of the government's decision point out that officers are already able to deal with protests that are spiraling out of control and disruptive.
"Police have been very clear that they have the power to deal with protests appropriately and manage protests when they start causing unwarranted disruption and have done so for decades," said Yasmine Ahmed, director of Human Rights Watch (HRW) in the United Kingdom. told CNN.
"Our right to protest is fundamental, especially at a time when we are in the throes of a cost-of-living crisis, a climate crisis and our public health service is on its knees. Instead of helping people living below the poverty line – people who are in work, including nurses – the government is wasting time crushing dissent," Ahmed added.
Wagner believes the bill could lead to the government being taken to court over allegations of human rights violations.
"(In)breaking up peaceful protest, you get to the heart of human rights law. Direct action groups like Black Lives Matter and Extinction Rebellion don't do much different than what we saw in the civil rights movement or from the Suffragettes. To get some issues on the national agenda you have to be disruptive and people who do that have to be tolerated as they are protected by law," he said.
Conservative MPs generally support the government publicly, but privately some admit that the amendments to make the bill even stronger could have something to do with the Conservative Party trailing in opinion polls.
This accusation has been leveled against the government in a number of policy areas, such as its controversial plan to deport asylum seekers to Rwanda, its efforts to make it more difficult for unions to call strike action, and a law protecting statues and national monuments.
"It is politically useful to sideline the opposition on all these other issues and remind the public that Labor (the official opposition) is funded by the unions," a senior Conservative told CNN.
While issues like this can be controversial, a willingness to have the argument is something that could help the Conservative Party as it tries to rebuild its base for the next general election.
Multiple polls suggest that the public is generally opposed to disruptive protest and the Conservative Party has become very good at weaponizing wedge-shaped issues such as Euroskepticism, immigration and protecting Winston Churchill statues in recent years.
There is no doubt that these issues put Labor in a precarious position. On the one hand, to have broad appeal they must support the police and not appear to be on the side of disruptive protesters. On the other hand, they have yet to oppose the government.
Sarah Jones, Labour's shadow minister for police, said in a statement that police "have powers to deal with dangerous, disruptive protests and Labor supports them to use those powers…But the Prime Minister has spent more time talking about protest than to the epidemic of violence against women and girls or his government's shameful record in prosecuting criminals."
This may be a valid criticism of the government and the prime minister, but it is a less clear and pure message than simply saying "protests are bad and we will stop them".
It's not clear that the government will get a big boost from cracking down on protesters, especially if the new legislation leads to many messy scenes of peaceful protesters being dragged away by an increasingly unpopular police force.
But politics aside, this law and order bill has left Ahmed, from HRW, wondering what kind of country Britain really wants to be in 2023.
"If people argue that the government has a right to stop protests, that's what China says, that's what Russia says, that's what Myanmar says," she said. "We wouldn't be living in the democracy we have today if people didn't have the right to protest and disrupt things."