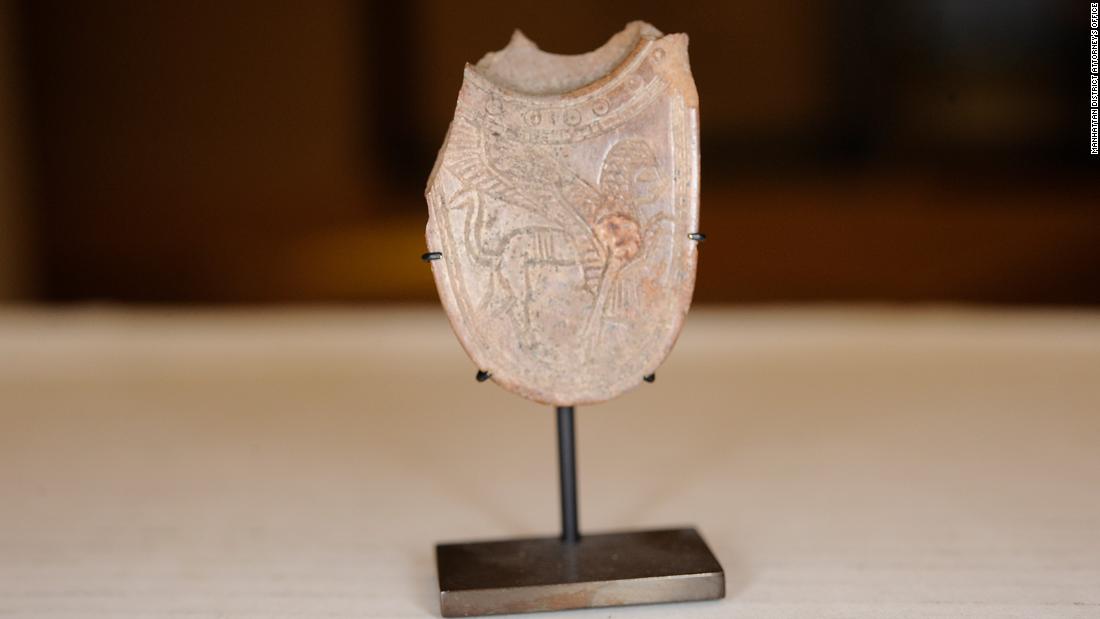 For the first time ever, the United States has returned a looted antiquities to the Palestinian Authority — an Iron Age ivory "cosmetic spoon" dating back nearly 3,000 years.
US and Palestinian officials attended a historic repatriation ceremony Thursday at the Department of Tourism and Antiquities in Bethlehem, according to statements from the US Bureau of Palestinian Affairs and the official Palestinian News & Information Agency (WAFA).
US and Palestinian officials met Thursday in Bethlehem for the historic repatriation. Credit: Ministry of Tourism
Dating to about 800-700 BCE, the cosmetic spoon was used to scoop incense onto fires as an offering to the gods or the dead, a statement from the Manhattan District Attorney's (DA) office added.
Palestinian Tourism and Antiquities Minister Rula Maayah, who attended the ceremony, said in a statement that the artifact "acquires its true scientific and archaeological value in its authentic location."
"Based on information from the US side, the investigation they conducted showed that the artifact was stolen from the Khirbet al-Koum area of ​​Hebron," she added.
US Bureau of Palestinian Affairs Chief George Noll, who also attended the ceremony, said the repatriation "is a historic moment between the American and Palestinian people and a demonstration of our belief in the power of cultural exchanges in the building mutual understanding, respect and partnership."
The ivory cosmetic spoon was seized following a multinational criminal investigation by the Manhattan prosecutor's office into American billionaire Michael Steinhardt.
Steinhardt turned in 180 stolen relics worth an estimated $70 million and agreed to an "unprecedented" lifetime ban on acquiring antiquities in December 2021, CNN reported at the time.
Investigators found that Steinhardt, one of the world's largest collectors of ancient art, was in possession of looted artifacts smuggled by 12 criminal networks from 11 countries, according to a statement from the prosecution.
Steinhardt's attorneys, Andrew J. Levander and Theodore V. Wells Jr, said in a statement to CNN at the time that their client was pleased that the district attorney's investigation had been completed without any charges "and that items falsely used by others taken will be returned to their country of birth." Nations."
Since then, the Manhattan DA has returned several of these looted artifacts, including a $1.2 million antique, to Libya and two artifacts to Iraq in January 2022; 39 antiquities worth $5 million to Israel in March 2022; and 58 antiquities to Italy, including 21 confiscated from the Metropolitan Museum of Art, in September 2022.