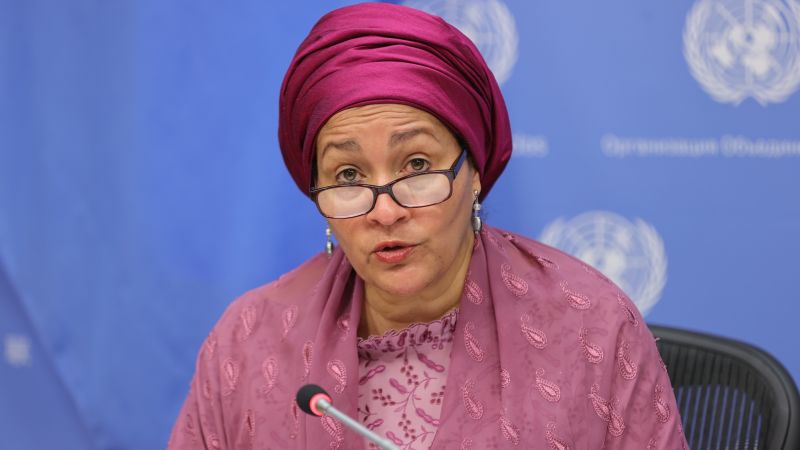 CNN
—

Some of the United Nations' top female officials have met with Taliban leaders in Kabul to discuss the ban on female aid workers as Afghanistan battles famine and poverty.
In December, the Taliban ordered all local and international non-governmental organizations to prevent their female employees from coming to work, as they risk having their NGO licenses revoked. At least half a dozen major foreign aid agencies have temporarily suspended their operations in Afghanistan as a result.
A UN statement said the visit comes at a time when more than 28 million people in Afghanistan are in need of humanitarian assistance. According to the UN, Afghanistan faces the risk of famine, economic decline and entrenched poverty.
UN Deputy Secretary-General Amina Mohammed and UN Women's Executive Director Sima Bahous met with Taliban officials on Wednesday. They had previously met with groups of Afghan women in Ankara and Islamabad, as well as a group of envoys to Afghanistan in Doha to address the ban on women aid workers and reaffirm "the need to continue delivering life-saving aid".
During the talks in Kabul, Mohammed stressed the need to uphold human rights, especially for women and girls, and was encouraged by exceptions to the ban on women aid workers, said UN spokesman Farhan Haq, according to Reuters news agency. This has led to some relief efforts in healthcare, for example, being resumed.
During Muhammad's meetings with officials in Turkey, Qatar and Pakistan, there was a "clear consensus on the issue of the right of women and girls to work and access education," Reuters quoted a statement from the United Nations Assistance Mission in Afghanistan as saying.
Bahous wrote a statement shortly after the Taliban's decree was issued in December denouncing the move. "By banning women from contributing to aid efforts, the Taliban have effectively suspended aid to half of Afghanistan's population, aid on which they depend and without which they will not survive," she wrote.
In the wake of the announcement, the UN said it had suspended some of its "time-critical" programs in Afghanistan due to the absence of women aid workers.
Half of Afghanistan's population is suffering from acute hunger and although the conflict has eased, violence, fear and deprivation persist, a UN report from November found.
US troops withdrew from Afghanistan in August 2021, marking the end of the US presence in the country, after which the Taliban came to power. Though well-funded and well-equipped, Afghanistan's security forces put up little resistance as Taliban militants took over much of the country.
The radical Islamic group initially seemed to want to distance itself from its former rule in the 1990s and presented itself as more moderate and committed to the internal peace process. Now, 17 months later, a series of decrees have steadily eroded the rights of women and girls in almost all aspects of life.