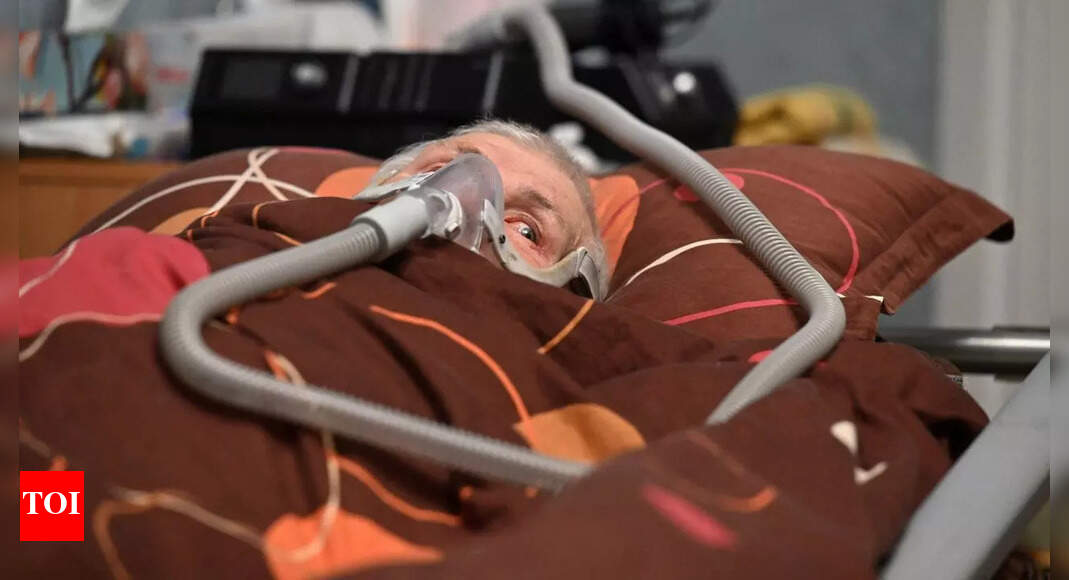 KYIV: Valentine Mozgovy can't breathe on his own, and keeping his respirator on during the blackout in Ukraine has become a matter of life or death.
Frequent power cuts due to Russian missile strikes have frightened tens of thousands of Ukrainians who rely on electricity to run medical equipment.
Mozgovy suffers from amyotrophic lateral sclerosis (ALS), a degenerative neurological disorder that has left him paralyzed and unable to breathe without help.
"He's alive, you see. That means I figured it out," his wife, Lyudmyla Mozgovatold AFP in their apartment in the capital Kiev.
Next to her lay her husband wrapped in a patterned duvet in a medically adapted bed, his face barely visible under the fan.
The Mozgovy's have come a long way since the first long blackout following the targeted wave of attacks on energy infrastructure in October.
Valentyn had to breathe alone for ten excruciating minutes.
"The way he was breathing was scary…we had no idea what to do!" said his wife.
When power outages became the norm, the Mozgovys adapted.
"His body doesn't move, but his mind is very clear, he gives a lot of advice… he's our captain," she said.
She installed an energy storage system and extra batteries for her husband's breathing unit and medical mattress, which regulates the pressure of bedridden patients.
Constant fear
As prepared as they have tried to be, their situation is precarious.
"I wish there was a little bit of stability so we could understand when there will be electricity… to make a decision about how to deal with it."
Mozgova realizes how lucky they are to be able to afford the equipment needed to keep her husband alive.
"It was very expensive, our children helped us … I don't even know what advice to give to those who have no money," she said.
In Ukraine, tens of thousands need electricity to stay alive, explains Iryna Koshkina, executive director of the palliative care charity SVOYI.
"If all these people suddenly couldn't use their life-saving devices and went to the hospital at the same time, our medical system would just break down."
Tetiana Venglinska had no choice but to hospitalize her 75-year-old mother, Eva, after three months of exhausting interruptions.
Eva, who has been diagnosed with lung cancer, must be hooked up to a device that supplies supplemental oxygen at all times, explained her daughter Tetyana, sitting on the corner of her mother's bed in a Kiev hospice.
In order for the oxygen concentrator battery to last through the endless power outages at home, the family had to reduce the amount of oxygen.
"For my mother, it was total torture," said Venglinska.
"Imagine cutting your oxygen intake three times."
"Drinking to Victory"
The battery was said to last up to eight hours, which left the family in a constant state of anxiety.
"(My husband) was afraid to enter her room every time. He didn't know if my mother was alive… or if she had suffocated," said Venglinska.
On the night of December 17, the outage lasted more than 10 hours, longer than usual.
With all power sources exhausted and 40 minutes left on the ventilator's battery, Tetyana called a private ambulance to hospitalize her mother.
The decision was life-saving: Venglinska's home was without power for the next four days.
"She definitely would have died," Venglinska said.
Since then, Tetyana has spent most of her time in the clinic, caring for her bedridden mother.
Her husband stayed in their flat, where he takes care of her 85-year-old father.
"I want to go home as soon as possible," said Venglinska. "Our family is divorced."
Back at Mozgovy's house, Lyudmyla also hopes for better days.
"We'll certainly drink to victory… Valentyn will do it his way, through a straw, and I'll pour myself one."
"And (the drink) shall not be weak!" she laughs.