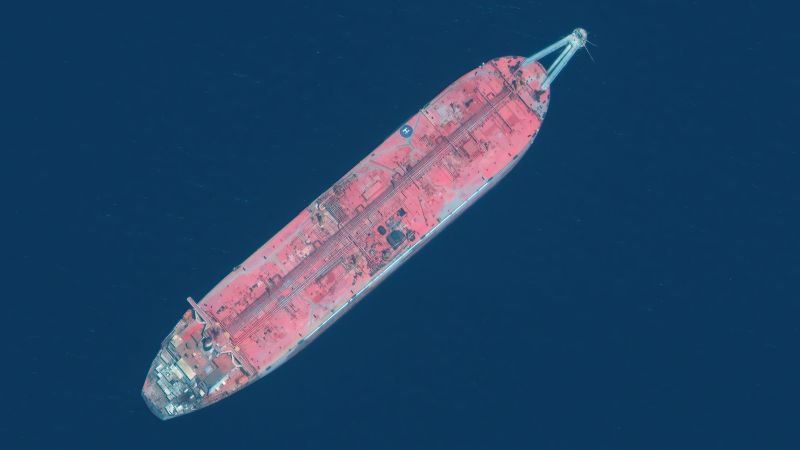 CNN
—

The United Nations has released a plan to unload 1 million barrels of oil from a rusting supertanker that has been moored off the coast of Yemen for more than 30 years.
In an effort to avert one of the worst environmental disasters in history, the UN bought a very large oil tanker to take the oil from the FSO Safer.
The 47-year-old tanker has not been serviced since 2015 because of the conflict in Yemen, United Nations Development Program (UNDP) administrator Achim Steiner told a briefing on Thursday.
"A massive spill from the Safer would destroy pristine reefs, coastal mangroves and other marine life in the Red Sea, exposing millions of people to highly polluted air and cutting off food, fuel and other life-saving supplies to Yemen, where 17 million people already have food aid needed," the UN said on a website dedicated to the problem.
A cleanup of the oil spill would cost $20 billion and affect 200,000 communities with their livelihoods "wiped out," said David Gressly, the UN's Resident and Humanitarian Coordinator for Yemen.
It could hit the African coast, it could affect shipping and could cause damage in pristine waters that wouldn't recover for 25 years, Gressly added.
The UN said the FSO Safer supertanker holds four times the amount of oil spilled by the Exxon Valdez, which is "enough to make it the 5th largest tanker oil spill in history."
The new $55 million double hull crude tanker will attempt to carry the FSO Safer's oil in a "ship-to-ship" transfer in May, Steiner said.
The operation has been described by Gressly as "high risk" and "very complex". "We're not quite there yet," Gressly said, adding that they've already mobilized $95 million for the project but still need $34 million to complete.
Where the oil will end up after it is removed has yet to be decided, but talks are ongoing, Steiner added.