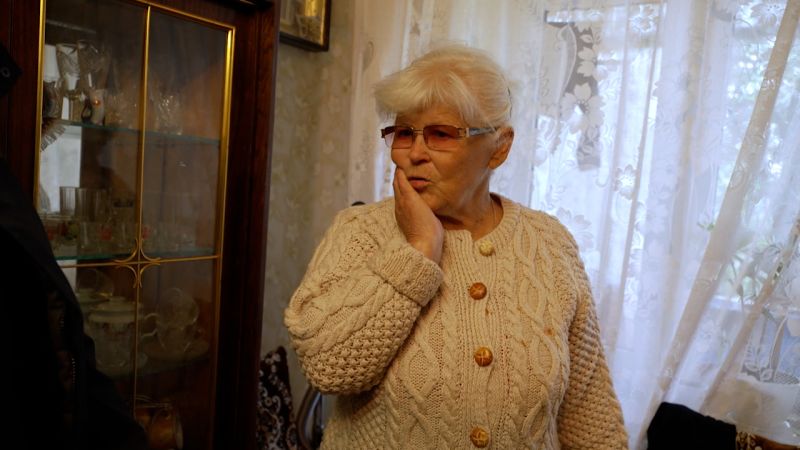 Shevchenkove, Ukraine
CNN
—

Shevchenkove may have been liberated after more than six months of Russian occupation, but the dilapidated streets of this small town in the northeast of Ukraine show no scenes of joy.
The streets were practically deserted on Tuesday, five days after Ukrainian troops swept through them. Their trucks and a heavy police presence were the only signs of the dramatic events of the past few days, and a strong reminder of who is now in charge.
There were few civilians. A couple, huddled in fear outside the police station, waited for their phones to be checked for any sign of collaboration with the occupying forces.
Kharkiv police refused to tell CNN what would happen to someone charged.
Ukrainian officials have vowed that anyone who collaborated with the occupying forces will face criminal penalties.
Other civilians rushed in and out of their homes, heads down and eyes down, to a food truck manned by Ukrainian military personnel, where bottles of water and plastic bags full of food were distributed.
Few were willing to talk to the media, and CNN's cameras were turned away from the police station by Kharkiv police whenever someone was taken away handcuffed and blindfolded in a police car.
Only a few elderly women taking a walk in a nearby park agreed to talk—first reluctantly and then with all the pent-up emotions of those who have been silent for too long.
"We had no choice," said Maria, who refused to give her last name for security reasons and burst into tears. "They just came and occupied us."
Her longtime boyfriend, 73-year-old Larisa Kharkivska, agreed to lead the way to the house she shares with her 35-year-old disabled daughter, Svetlana. According to Kharkivska, they are the only people left in her building. All those who could afford the $400 it cost to leave through Russia did, she said.
She said she felt guilty for taking the food handed out by the Russians when she showed her two cardboard boxes containing a few bags of sugar and some rice.
"We couldn't buy anything in the stores," Kharkivska said. "And we couldn't get any money because the banks were closed, so we had to stand there like beggars."
Their apartment became a prison they dared not leave.
"They (the Russians) walked around with automatic weapons; we were terrified to go outside," Kharkivska said.
Almost every night from 8pm to 6am, they had no electricity and no water, she added.
"We survived, thank goodness, we survived! But it was very scary. We just hope they never come back."
Shevchenkove, located about 80 kilometers southeast of the city of Kharkov, was occupied from February 25 — just a day after Russia launched its invasion — and was largely unharmed despite shelling as the Russians swept through the city.
On Tuesday evening, Ukrainian President Volodymyr Zelensky spoke of the "stabilization measures" now underway in what Ukraine says is 8,000 square kilometers of land that has been recaptured from the Russians.
"Remains of occupiers are being held, collaborators detained and full security is restored," Zelensky said. He added how important it was to return to 'normal life' after an area was liberated from occupation.
There is little sign of that in Shevchenkove as authorities try to figure out where cooperation ends and survival begins.